With the end of the preseason, final roster cuts and the start of the regular season just around the corner, general manager Dave Gettleman fielded questions from the media Tuesday.
On this weekend's setting of the regular season roster and the process of reducing it from 75 to 53: "I told the coaches when we started the whole process in our first personnel meeting in Spartanburg, I said, 'It's critical that we make educated decisions at the cut to 53.' The fourth exhibition game (Thursday versus Pittsburgh) is important. There are still spots up for grabs. Nothing has been decided yet.
"The best 53 guys are going to make the team. We don't believe in, 'We have to have three of these, four of those, seven of those.' That's not the way we operate. We're going to have the best 53 guys on our roster."
On the depth of the roster and the quality of it versus last year: "I'm pleased with it. A couple of young guys that we were counting on for quality depth have lost some time at training camp, but I feel good about it.
"Kelvin Benjamin is back. That helps us. All the young kids are another year older, wiser, smarter with reps. Those young corners are coming on. Paul Soliai is going to help us out, and Vernon Butler, I'm excited about him. You're not really going to know until December, but I really believe we've got a strong team."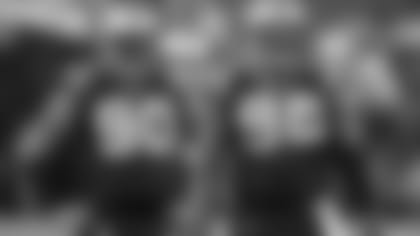 On the decision to trade for veteran punter Andy Lee in favor of rookie punter Kasey Redfern and injured veteran Mike Scifres: "We signed Mike knowing he had the plant leg issue from last year, but we knew him – (head coach) Ron (Rivera) had been with him in San Diego – and we thought he could potentially be an answer. Unfortunately it didn't work out. To have a team like this and to go into a season with a rookie punter is really rolling the bones. Through conversations in the office, we decided to take a shot. Andy Lee is a Pro Bowl punter. People talking about checking boxes? Well, that's a huge box to check. He's an outstanding holder as well as a great punter, and it was just something we felt we needed to do.
"As a general manager, I say to myself every night, 'Have I given Ron the players that he can win with?' I constantly ask that question because at the end of the day, that's my job. I felt it was a necessary move, and I feel like it's a real strong move."
On situation with Pro Bowl defensive tackle Kawann Short, in the final year of his rookie contract: "Contract negotiations are going on. That's as far as I'm going."
On his Giants experiences after Super Bowl losses and where he see this team: "In 2000 after losing it, it was a rough year. We went from a Super Bowl team to 7-9 with basically the same group. After 2007, the 2008 team was 10-1 when Plaxico (Burress) shot himself. That loss really affected our offense.
"These guys are hungry after getting so close. I don't see any difference in work ethic or their approach. Ron and I are very pleased. We're very encouraged with where they are mentally."
View photos of practice from the fourth week of the preseason.