CHARLOTTE – When the Panthers' 12 spring practices concluded last week, head coach Ron Rivera felt there were "a lot of positives and pluses" entering the break.
General manager Dave Gettleman echoed that sentiment.
"I think we had a solid spring," Gettleman said. "Ron set the stage and told them right up front we are starting from Ground Zero. I think they took it to heart, and they came here to work every day, just like they did last year."
Gettleman and Rivera have every right to feel good about a 17-2 Super Bowl team that returns largely intact for 2016.
The most notable change looms in the secondary, where Pro Bowl cornerback Josh Norman no longer resides. But Gettleman is encouraged about what he saw from the three cornerbacks he selected in the draft.
"The biggest thing these young kids have to do when they get in here is assimilate into the operation," Gettleman explained. "Part of our M.O. is our work ethic and our work habits, not only on the field but off the field in the meeting rooms. They have fit in real well and showed us what we thought we'd see. We're looking forward to training camp and seeing what it's like when the pads come on."
When the pads come on, those rookies will get their first live action against Kelvin Benjamin – the massive wide receiver who suffered a season-ending knee injury during last year's training camp.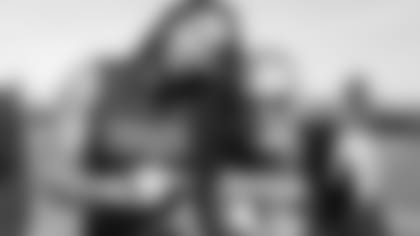 "I feel like with Kelvin coming back we have an extra first-round draft pick this year," Gettleman said. "Everything works out for the best. Having Kelvin and Stephen (Hill) back certainly makes you more comfortable."
Speaking of being comfortable, Gettleman thinks the continuity on the offensive line will be a big plus for quarterback Cam Newton. All five starters from last year are back, and center Ryan Kalil and left tackle Michael Oher recently signed extensions.
"It is certainly going to give Cam a lot of comfort," Gettleman said. "They played very well as a group together last year and it's going to get better. A lot of it is the trust. I was talking about this with Michael (Oher) – he knows that (left guard) Andrew (Norwell) is going to be where he is supposed to be. The offensive line has to trust each other and communicate. It's great that this group is together for another year, and going forward, at least four of them are here for two more years. That's important."
The break before the start of camp allows the Panthers to recharge and refocus for the immense challenge that awaits. As linebacker Thomas Davis said, a Super Bowl return will require everyone to "dig deeper this year," and it all starts in Spartanburg.
"I think the whole locker room is well aware of the task in front of them," Gettleman said. "Ron and the captains get it; they understand what it's all about. The rest of the group has responded well. I think we have a good foundation to jump off of for training camp."
View photos from Thursday's mandatory practice.