CHARLOTTE – In his final college game, back in 2014, David Mayo recorded seven tackles in the Georgia Dome.
It was a modest number for the linebacker, who posted 12.8 tackles a game as a senior at Texas State. But when Mayo headed to another NFC South venue to wrap up his second NFL season and again recorded seven tackles, it felt like a much bigger number.
"It was really fun for me, finally getting out there to play linebacker, which I love, getting back into the rhythm of the game," Mayo said. "It was a big experience for me, playing a lot of snaps at linebacker in a real game – not just in preseason. It was great for my learning curve."
Prior to last year's season finale at Tampa Bay, Mayo had two tackles on defense to his credit with nearly two years under his belt. He's been a special teams standout, but he's in a stacked linebacker room where him getting significant snaps would be an indicator that there was some sort of injury issue or the sort in front of him.
That's still the case, but Mayo is in contention to move up the pecking order. Gone is A.J. Klein, who served as the Panthers' primary backup at all three linebacker spots. He signed with the Saints this offseason, seeking an opportunity to start.
Now Mayo, who like Klein was a fifth-round pick, has a chance to fill that role.
"There are still a lot of things he needs to improve upon, but the goal is to try to get him ready to be a multiple-position player for us," linebackers coach Al Holcomb said. "He started out as a middle linebacker, and now we're trying to progress him to play all three positions."
Holcomb said the reps Mayo got to wrap up the 2016 season were invaluable, and the reps he enjoyed throughout the offseason program were, too.
"With us losing A.J., I've just got to step up that much more and really learn those positions more," Mayo said. "It's really good for me to get reps at all three positions. I understand those spots, but it's another thing to get reps. When you get those reps, the learning really picks up."
From Day One of offseason workouts, Mayo impressed his position coach.
"Since the beginning of Phase One, he was in the weight room every day getting bigger and stronger, and he's in fantastic shape," Holcomb said. "He's strong, and he's got great hands – arguably the best hands in our group in terms of disengaging from blocks and things of that nature.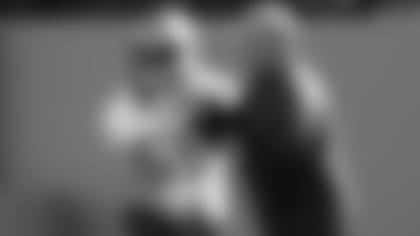 "He's a very physical player at the point of attack. We're in the process of developing him into a complete player in terms of the pass coverage aspect as well."
With the likes of Luke Kuechly, Thomas Davis and Shaq Thompson in front of him, Mayo will remain a special teams-first player. He recorded 11 special teams tackles each of his first two NFL seasons, a figure that paced the team this past season.
But Mayo is a linebacker who takes special teams seriously, and he's working to be taken seriously as an NFL linebacker.
"My mindset is the same – just being ready to play whenever I have the chance – and have fun with it," he said. "I feel good about things. I learn more and more every day, and I feel more and more comfortable with the defense every day."
View photos from Wednesday's mandatory minicamp session.