CHARLOTTE – Ten years ago, Thomas Davis was a 22-year-old rookie safety who didn't know any better.
After beating the Chicago Bears, Davis and the Panthers lost to the Seattle Seahawks in the NFC Championship game, but he was convinced Carolina would soon be back.
"As a young rookie you don't understand how hard it is to get to that point. In my mind, I said, 'Ok, we made it this far this year, next year we're going to win the Super Bowl,' and I fully believed that," recalled Davis, now a seasoned Pro Bowl linebacker. "This is ten years later, and now we are finally making it back to the NFC Championship game."
After that loss in Seattle, Davis went to the playoffs once over the next seven seasons. That lone appearance was a Divisional Playoff loss to the Arizona Cardinals in 2008.
Davis' career was then derailed by injury. The 2009 season was the first of three consecutive years where he tore his right anterior cruciate ligament.
But Davis and the Panthers eventually got back on track. In 2012, Davis became the first known NFL player to return and play a full season after having three ACL surgeries on the same knee.
In 2013, the Panthers were back in the playoffs as NFC South champions. Last year, they won their first playoff game since 2005 with a Wild Card win over the Cardinals.
Now, after a win over the Seahawks, the Panthers are hosting the Cardinals in the NFC Championship.
"It really puts things in perspective," said Davis, the only remaining Panther from that 2005 team. "That's one of the messages that I'll definitely be talking about to the guys. Take advantage of this opportunity because you never know when it is going to come around again. It took ten years for me to get back here."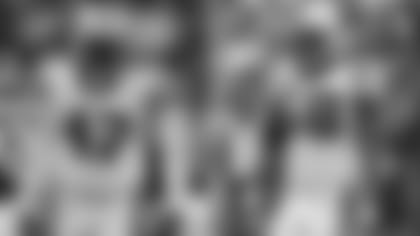 The Panthers, built around two elite talents in 26-year-old Cam Newton and 24-year-old Luke Kuechly, certainly appear positioned for sustained success.
But Davis, Carolina's emotional leader, knows as well as anyone how quickly things can change.
He'll speak to his teammates about how special Sunday's game is. But he doesn't want them to stray from what got them to this point.
"As players, you can get wrapped up in feeling like you have to do more than you've done so far," Davis said. "That's not the case."
Just don't take this for granted.
"There are so many guys sitting at home wishing they could be in this position, wishing they could have this opportunity to host an NFC Championship game," Davis said. "We have a chance in front of our home crowd to punch our ticket to the Super Bowl – but it's not going to happen by chance."
---