CHARLOTTE – It pained linebacker Thomas Davis – literally and figuratively – to be confined to the sideline for the final chapter of Carolina's dramatic victory over the New Orleans Saints last Sunday.
Davis is doing everything possible to avoid being a spectator again this Sunday when the Panthers visit the Tampa Bay Buccaneers for another NFC South showdown.
"We'll find out Sunday if I can play with it," Davis said Thursday. "But I can tell you guys that I feel pretty good."
Davis fully participated in practice Thursday with what he described as a strained pectoral muscle. He had been limited Wednesday.
"It feels 10 times better than it did on Sunday, I can tell you that," Davis said. "It was tough. I kind of lost strength in my right arm and couldn't really wrap up like I needed to. That was the reason I wasn't in at the end of the game.
"It was one of the toughest things I've ever had to deal with, just sitting on the sideline with the game on the line and not being able to contribute. It was tough, but ultimately the coach made the right decision. I didn't risk further injury, and I have a lot of trust in the guys who were out there in Shaq (Thompson) and A.J. (Klein)."
WAITING IN THE WINGS: Klein has filled in admirably at middle linebacker with Luke Kuechly out the last two games and looking likely to miss a third consecutive game.
But if both Kuechly and Davis were to be out of action Sunday, a linebacker no one is really talking about could suddenly be the man in the middle.
Ben Jacobs, who developed into a special teams stalwart last season, showed this preseason that he could handle the demands of middle linebacker.  
"I haven't really changed anything that I do – I always prepare like I'm going to play," Jacobs said. "The only difference is that I am getting a few reps here and there. I'm getting mentally ready just in case."
Jacobs played in every game last season after spending most of the 2013 season on the practice squad but played very little on defense, recording one tackle. He led the Panthers with nine special teams tackles.
"I think we have a great core of linebackers here, and it's a group where everybody knows their role," Jacobs said. "T.D. and Luke are the guys that bring big plays to the table, and Shaq and A.J. also. There are also guys like me. I know my role is on special teams and to be ready to go in if something happens."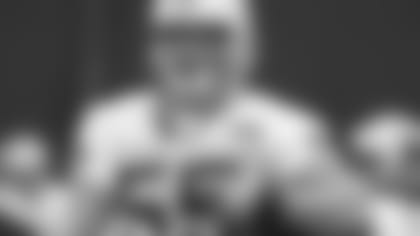 A LITTLE MAYO ON THE SIDE: Rookie linebacker David Mayo's locker is right next to Jacobs, and the two typically are next to each other when their special teams units take to the field.
That's where the focus for Mayo, the Panthers' fifth-round draft pick, currently lies.
"My role right now is mainly on special teams, and I take that pretty seriously," Mayo said. "Now if they need me to step in (on defense), I'm always ready. I'd be excited about that opportunity if it ever arises."
At this early juncture in the season, Mayo is tied for second on the team with two special teams tackles.
Mayo said he's soaking in knowledge from everyone in the linebacker room – Davis and Kuechly of course, but also Jacobs, Klein and even second-year player Adarius Glanton, currently on the practice squad.
"The leadership on this team is outstanding," he said.