CHARLOTTE – Thomas Davis' body is sore, especially on Mondays.
His shoulders. His arms. It's the kind of soreness linebackers everywhere can relate to.
"That happens with playing the game," Davis said.
For a linebacker who played in only nine games from 2009 to 2011, feeling sore on Mondays has never felt so good.
Playing football has never felt so good.
"I really can't stress to you enough how good it feels to be a part of this team right now," Davis said.
Davis' remarkable story is well-known among those who follow the Panthers. He tore his right anterior cruciate ligament three times in less than two years.
He tore it the first time seven games into the 2009 season.
He tore it a second time during OTAs in June 2010.
He tore it a third time two games into the 2011 season.
Three strikes. At least that's what everyone in the National Football League is conditioned to think.
No one recovers from three ACL tears to the same knee.
"How many guys do you hear come back from three ACLs? It doesn't happen," defensive tackle Frank Kearse said. "I've seen one shooting star."
---
Davis endured his third tedious rehabilitation and gave his football career another shot. He strapped a brace to his thrice-repaired right knee and hoped for the best at the start of his eighth season.
"I came into this season not really knowing what to expect," he said.
Davis has played in 12 of the Panthers' 13 games, missing only Week 3 due to a hamstring injury. He's started nine of them and is currently the team's second-leading tackler with 94 stops.
"I never expected to be second on the team right now in tackles," Davis said. "I didn't really know if I was going to be a starter at all."
The coaching staff had been cautious with Davis at the start of the season, limiting his snaps and protecting him, to a certain extent.
Early in the year, Davis was often asked about the status of his knee. Eventually, he made it clear that those questions need not be asked anymore.
"Early on, when I would come in (my knee) would have some swelling or some soreness," Davis said. "I'm not even feeling any of that right now."
As the weeks wore on, Davis' snap count increased. He consistently performed at a high level, and there were no medical setbacks.
When Davis' good friend and fellow linebacker Jon Beason was placed on injured reserve after Week 4, Davis' role changed.
He became a starter at weakside linebacker in Week 5 and has remained there ever since.
"If you just met Thomas Davis," middle linebacker Luke Kuechly said, "you wouldn't even know he had three knee surgeries. It's hard to believe."
---
Team owner/founder Jerry Richardson, head coach Ron Rivera and Davis met during the offseason, and Rivera wasn't quite sure how this comeback attempt would play out.
But Davis convinced Rivera to give him another chance, convinced him he could make an impact.
"Thomas looked me in the eye and told me he would come back," Rivera said.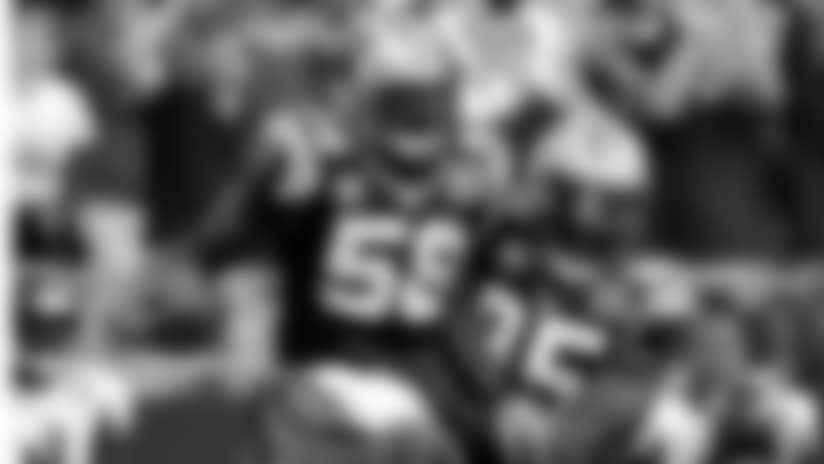 That's what made Davis' critical fourth quarter interception in last week's 30-20 victory over the NFC South champion Falcons so rewarding for Rivera. He concluded his post-game remarks with emotional words of praise for Davis, who was awarded the game ball.
"As a head coach, when you have a guy look you in the eye, coming off of three knee surgeries, and he makes you believe in him," Rivera paused, "that's what it is all about."
It's a comeback story suited for a Hollywood script.
"They should make a movie out of it," left tackle Jordan Gross said. "Thomas is a guy that hasn't gotten enough credit and praise for what he's been through."
He's been through more adversity than he ever could have imagined when he was drafted by the Panthers in the first round of the 2005 NFL Draft.
His string of knee injuries forced him to briefly contemplate retirement during his prime years.
Now he's making up for lost time, and he can't hide the joy.
"I can still go out there and have a positive impact on the game. That was something that was in question by a lot of people," Davis said. "I feel like I still have a lot of football left. My muscles are back firing like they need to, and I'm feeling fast again.
"I'm excited about where I am."
He's back where few thought he'd be, playing again. 
"What Thomas has done this year is remarkable," wide receiver Steve Smith said. "A lot of people said, 'He won't do this. He won't do that.'
"That's the great thing about sports -- you get to do things that people say are impossible."