Comments from linebacker Thomas Davis during an interview with NFL Network.
On making NFL Top 100: It was a huge honor. As a player that's been playing well in this league for a while, I felt like I should have been on the list a while ago, like every player that has made it for the first time. But I'm excited to be a part of that group.
On Kawann Short, who also made Top 100: Man, the guy comes to work every day. He gives everything he has to this football team and I'm surprised that he was at the 58 spot. I expected him to be a lot lower.
On Panthers losing Josh Norman: It was definitely a shock to a lot of us, but at the same time, we understand that this is a business. Josh had to do what was right for him and the team had to do what was right for the organization. You know, we're moving on. We drafted three young guys that are looking good right now. We're just trying to get them acclimated with what we do here defensively.
On Cam Newton bouncing back: (He just needs) to do exactly what he's been doing throughout this OTA process. Come to work, show his teammates how much he cares about them and continue to be the leader that we know he is. The guy won the MVP award for a reason last year. He's a special talent and we're just excited to have him on our football team.
We understand what kind of guy he is. Week in and week out, he goes out and gives his body up for this team. You look at some of the things that he's been able to play through – I mean the guy came back a week from having a car accident that could have been a lot worse than what it was. The guy messed up his back, but he came back for his football team because he cares about what we have going on here. We know how tough Cam is. We've never questioned that and we won't ever question it.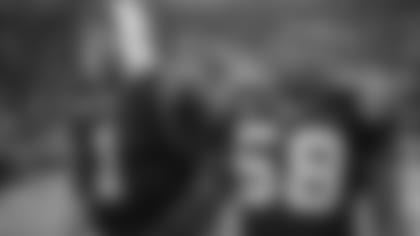 On Kelvin Benjamin being back: Man, KB looks great. I'm excited to see where he is in his rehab process. He's been working his butt off in the weight room all offseason. You can look at his body type and see the work that he's been able to put in. We're excited to get him back, because when we have him on the field it definitely adds another dimension to our offense.
On his own health: I'm telling people I'm like fine wine, I'm getting better with age. I think the numbers are starting to show that. People are trying to figure out how it's happening, but I just stay grounded, stay all about what's important to me, and that's this football team and being productive.
On relationship with Luke Kuechly: Extremely competitive, and I think that's one of the things that makes us good. We go out and compete against each other – not only on Sundays, but throughout the week in practice. In the film room, we're always talking about being the first to do this, the first to do that. It's all about making each other better. That's what we've been able to do.
On Ron Rivera's message this year: Just because we made it last year doesn't mean that we're going to go back. We understand that with the type of season that we had last year, everybody that we play this year is going to be coming for us. They're going to want to be that team that knocks us off early. We have to know that we have to dig deeper this year and make sure we don't come out complacent thinking things are going to just happen for us. We've got to put the work in, and so far we've done that.
View some of the top photos of the Panthers linebacker and team captain in action.