CHARLOTTE – Defensive end Frank Alexander was reinstated by the NFL for the second time Monday, a second chance he is most certainly thankful for.
"I feel like I let a lot of people down. I want to try to get back on the right track," said Alexander, twice suspended by the NFL for violating its policy and program for substances of abuse. "The organization has been real supportive. They could have easily just said, 'OK, we're done with Frank.'
"I thank those guys for allowing me to still be in meetings and come up here and work out and do what I've got to do. Without the support of my family and all the people that have been with me through this, I couldn't have done it."
In May, the NFL suspended Alexander for the first four games of the season. He was reinstated September 29 but was suspended two days later for 10 more games. The second failed test took place in June, but the league didn't act on it until October.
"The way it came out, it made it seem like I had just done something again. That wasn't the case at all," Alexander said. "There was nothing I could do about it, though, other than just try to move forward."
As is typical in these situations, the Panthers have been granted a seven-day roster exemption for Alexander, meaning he currently doesn't count toward the 53-man roster. Before the exemption expires, the team has to decide whether to add him to the roster or waive him.
"We've got to make sure he's in football shape, and then we'll make a decision later in the week," head coach Ron Rivera said. "Coming out of training camp, he was our number three defensive end, and then obviously the situation and circumstances changed.
"It will be good to have him back and see what kind of impact he can potentially have."
Selected in the third round of the 2012 NFL Draft from Oklahoma, Alexander recorded 37 tackles, 3.5 sacks, three fumbles recoveries and six passes defensed over his first two seasons.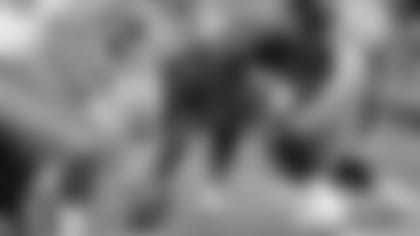 The Panthers did make a change to their 53-man roster Monday, signing defensive tackle Kyle Love and waiving defensive tackle Micanor Regis.
The 6-1, 315-pound Love played in 41 games with 25 starts for the New England Patriots from 2010-12 and recorded 65 tackles and 5.5 sacks. He also played in six postseason games with four starts. Love played one game for both the Kansas City Chiefs and Jacksonville Jaguars in 2013 and was released by the Chiefs in the final roster cutdown this season.
Regis spent the first 11 games on the Panthers' practice squad before being promoted to the active roster on November 29. He was inactive for all three games.