CHARLOTTE – Safety Dean Marlowe displayed a real nose for the football in college, intercepting 12 passes over the course of a career that earned him all-conference honors four times.
Two seasons into his NFL career, however, Marlowe has barely sniffed the field, but he's in position to nose his way into more playing time in 2017.
"I control what I can control. I just work hard every time I come out on the field," Marlowe said. "I don't worry about any outside things. I'll just let my play speak for myself."
So far in the early stages of organized team activities, Marlowe's play is speaking volumes. He had the first interception of OTAs in the first practice, then he nearly came up with another one on the second day.
It's a promising start for a guy who entered the offseason initially aiming to restart his engines following an injury-riddled season.
"This is the first time I actually put on a helmet since September," Marlowe said. "But adversity can be key – you just have to bounce back and keep pushing. I'm so happy to be out here healthy and performing on the field."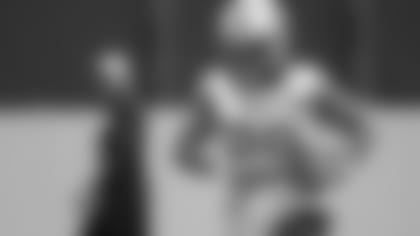 Undrafted out of Football Championship Subdivision powerhouse James Madison in 2015, Marlowe was one of two college free agents to make the Panthers' 53-man roster. He was often inactive as a rookie, seeing nine snaps on defense in four late-season games. He entered last season with a solid shot at significantly more playing time after Roman Harper wasn't re-signed, but he never really got out of the starting blocks.
"It happened in training camp, and I was out for maybe three weeks," said Marlowe, slowed by and eventually shut down by a hamstring injury. "Then I came back and felt good, but it just wasn't there yet and it happened again in the San Fran game. Then it was over; it was done.
"The process was rough, sitting on the sideline since September watching my boys out there playing. It's tough when you're just itching to get back on the field."
But Marlowe, placed on injured reserve after just three defensive snaps, didn't mope. He remained motivated and in the process put himself in better position for the upcoming season.
"They say the game is 80 percent mental, 20 percent physical. I continued to go to meetings even though I was hurt, and I would write down notes like I was actually playing that week and was on the sideline watching formations and calls," he said. "I never mentally checked out. I was always in the game."
Marlowe could get back in the game this season. The Panthers signed veteran Mike Adams early in free agency to pair with stalwart Kurt Coleman. They then waived contributor Tre Boston but didn't sign another safety, a sign of confidence in the guys working behind Adams and Coleman.
"Mike Adams is going on 14 years - every player in the league wishes to get that far. He's a good guy to help support the young guys with his knowledge of the game," Marlowe said. "You've also got Kurt, who is going on year eight. That's a lot of experience.
"It's great to have all those older guys to lean on whenever you need something. Fourteen years, eight years, three years – we all have something to work on and develop."
Marlowe wants to one day be where Adams and Coleman are now, and he recognizes that 2017 – the final year of his rookie contract – is a big year in terms of his pursuit.
"It is. It's another step in the journey that I need to take," Marlowe said. "Each year, the coaches talk about producing and progressing. Every player should get better each and every year.
"It's a new year, the start of spring. I'm getting after it."
View photos from the first week of Carolina's organized team activities.