CHARLOTTE – Defensive coordinator Sean McDermott was impressed with his unit's 2013 debut against the Seattle Seahawks.
"I thought it was great intensity, physical defense," McDermott said. "You hold a team to 12 points – a playoff team – so there were some good things."
Among those good things were Carolina's red zone defense, which held Seattle to no touchdowns on three possessions inside the 20, and the run defense, which limited Marshawn Lynch (the NFL's third leading rusher in 2012) to just 43 yards on 17 carries.
"Bottling up Lynch, hitting him, being physical with him – I thought we did a good job," McDermott said. "Some things we need to work on: Obviously, the third downs, four-minute defense and then we've got to win the football game."
McDermott praised the effort of the all-around performance by the front four, shutting down Lynch and constantly pressuring quarterback Russell Wilson.
"To sit back, pin your ears back and rush the quarterback is one thing. But to be able to play the run and the pass, now you're talking about a true defensive line," McDermott said.
How good can that defensive line be?
"Probably as good as I've been around," McDermott said. "They're not there yet, but probably as good as I've been around. They've got a chance to be pretty darn good.
"Those guys have to continue to push one another and compete with one another to improve."
ROTATION THINNED: The defensive line rotation took a hit in the second quarter when defensive end Frank Alexander was flagged for a personal foul and was subsequently disqualified.
"We go from four to three ends in 90 degree weather," McDermott said. "You can't do that. You have to be disciplined, and Frank knows better than that. It's one thing to be a tough, physical defense, but you have to be a disciplined defense at the same time."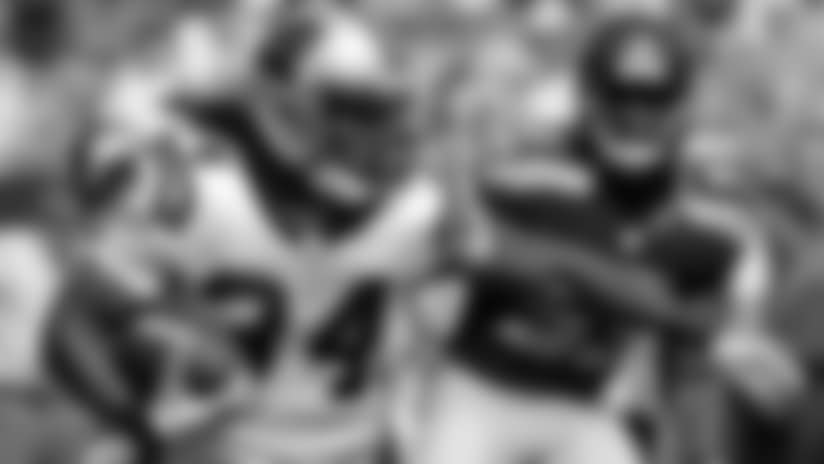 MORE OFFENSE: Offensive coordinator Mike Shula wanted to re-establish the Panthers' running game in 2013, and Sunday's 134-yard effort against the Seattle defense was a good start.
"Yeah, there was some good things, some good movement at the point of attack," Shula said. "DeAngelo (Williams) was running hard. There were some good looks of guys blocking down the field."
Williams finished with 17 carries for 86 yards but also had a costly lost fumble on what proved to be the Panthers' final offensive play of the game.
"It was a physical, hard fought game, and we had a chance at the end," Shula said. "Unfortunately, we turned the ball over. Impressed with just the way our guys fought, their effort throughout showed up."
In addition to expanding the vertical passing game, Shula also hopes to see the Panthers extend drives and increase the number of plays after running 50 in Week 1.
"We have to stay on the field," Shula said. "We have to get more plays offensively. To do that, you have to make first downs. You have to stay out of third down more so, which means making plays on first and second down a little bit better."
---
PRACTICE SQUAD CHANGES: The Panthers have released center Garth Gerhart and defensive tackle Casey Walker from the practice squad.