CHARLOTTE – The Carolina Panthers defense is making a habit of rallying in the red zone.
After limiting the Redskins to one touchdown in three red zone trips, Carolina now ranks sixth in red zone defense, allowing touchdowns just over 41 percent of the time.
"That defines a defense," defensive coordinator Sean McDermott said. "It's what you do when you're backed up, when your back is against the wall that really defines who you are."
In the second quarter, the Panthers ended Washington's 16-play drive with a stop on fourth-and-goal. The offense responded, scoring what proved to be the game-winning touchdown on the ensuing possession.
The Redskins finally reached the end zone late in the fourth quarter, but the Panthers certainly made them earn it. After the ball was spotted for first-and-goal at the 10-yard line, Washington ran seven plays, two of which were nullified by penalties, before crossing the goal line.
Carolina had forced a fourth-and-six situation, but the Redskins received an automatic first down when linebacker Thomas Davis was penalized for unnecessary roughness, and they scored two plays later.
"The amount of plays they had in the fourth quarter from inside our 20, just trying to move the ball 10 yards, was impressive," McDermott said. "It would have been great to get another stop and reward the guys for what they worked so hard for."
---
STEADY DEFENSIVE IMPROVEMENT: The Panthers defense has not allowed more than 19 points in any of the last four games. Since Week 5, Carolina ranks fourth in total defense.
Following an inconsistent start to the season, Carolina is limiting big plays and keeping games well within reach.
"We've settled in," head coach Ron Rivera said of the defense. "We've had to put a couple guys (linebacker Jon Beason and cornerback Chris Gamble) on IR and we are no longer wondering if they are going to play. We've started the same group four weeks in a row. We've found our identity."
Beason and Gamble, two established defenders on the Carolina roster, have been missed, but the defense has benefited from a stretch of continuity, and the replacements have succeeded in their expanded roles.
"What the guys have done collectively is they've stepped up and they've played great team defense," McDermott said. "Defense isn't one guy. We talk all the time about getting 11 hats to the football and being 1-11th of the defense, and knowing where your help is and using it. It's unselfish, but that's what great team defense is all about."
---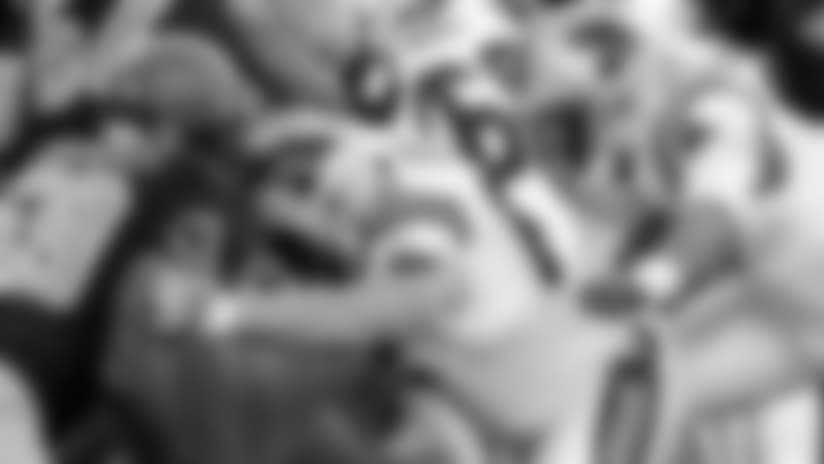 MARCHING ON: Against Washington, the Panthers' offense produced two 90-plus yard touchdown drives in one game for the first time in team history.
"To be able to go on those long drives says a lot about our guys," offensive coordinator Rob Chudzinski said. "It was huge."
The 12-play, 98-yard march to end the first half after Carolina forced a turnover on downs was the game's pivotal moment, and it provided a huge lift going into halftime.
"It was a big swing in the game," Chudzinski said. "The feeling in the locker room after that – you could see some confidence and guys were into it. It was a big moment for us."
---
CLOSING TIME: Holding onto a lead and walking away with a win was satisfying, but quarterback Cam Newton reiterated the Panthers' need to finish games more efficiently.
"We still have to get the components at the end to finish better," Newton said. "We had ample opportunities and great field position on offense. We have to find a way to get a first down."
After taking a 21-6 lead early in the fourth quarter, the Panthers predominantly ran the ball but struggled to get much of a push at the line of scrimmage. Carolina subsequently converted just one third down over its final three possessions.
"We have a lot of improvement yet (up front). We have to play more physical," Chudzinski said. "You look at the end of the game and the opportunity to close the game out. I have to work on giving them things that they can be physical with and go play with that mentality. That's something we're going to be working on."