SAN FRANCISCO – Sixty-two seconds remaining, ball on the 20-yard line.
The Panthers defense is looking to hold onto a 10-9 lead as the San Francisco offense takes the field in search of a game-winning field goal with no timeouts.
"This team has been in that situation before," cornerback Drayton Florence said.
It has. And when you recall what happened in Week 2 at Buffalo and last year in Atlanta, it hasn't always worked out in Carolina's favor.
It was a different story Sunday at Candlestick Park on a day when the Panthers' defense was in complete control.
"We talked about it before we went on the field," said linebacker Thomas Davis, who forced a fumble that safety Quintin Mikell recovered in the third quarter. "It was all about doing what we had been doing all game long. Don't press. Don't get too high or too low. It was all about playing the next play, whether something good happened or bad happened."
Said Florence:  "At that point in the game, you just want to play smart, sound football. The only way they could beat you is by getting a throw over the top."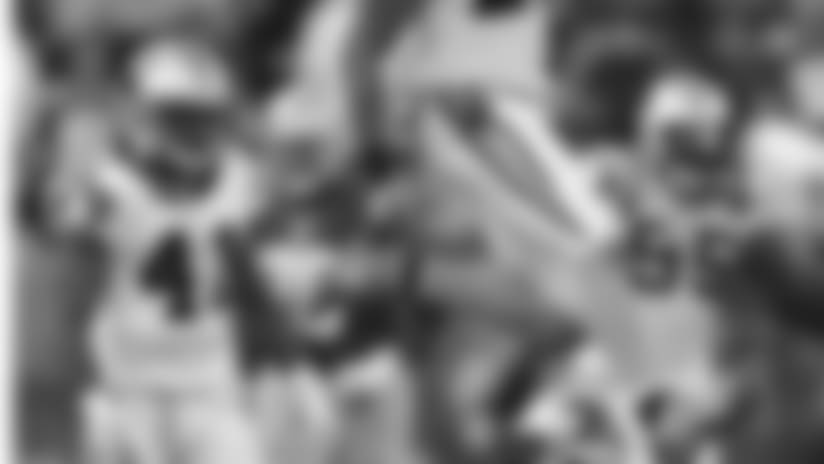 The Panthers defense was confident and prepared. They wanted the chance to finish the game and close out a fifth consecutive victory.
"I can't tell you I was that nervous," said rookie linebacker A.J. Klein, who made his first career start. "We had that much confidence as a defense. We got together before that last drive, and everybody on that defense was confident that we would be able to stop them and get out of here with a win."
On the first play of the final San Francisco possession, defensive tackle Dwan Edwards sacked Colin Kaepernick for a 6-yard loss. It was the sixth sack of the day for the Panthers.
"That sack was huge," Klein said. "Huge."
Carolina's intentions were clear. There was only one way this game was ending.
On the next play, Kaepernick targeted wide receiver Mario Manningham. Florence's eyes lit up.
"Kaepernick was looking for the seven-route the whole game," Florence said. "I just sunk and got underneath it."
Florence picked off Kaepernick's pass – his second interception in as many games – and the Carolina sideline erupted into celebration.
The weight of this game was put on the shoulders of the Panthers defense. And with Florence's interception, the weight was lifted in fitting fashion.
This game was played on their terms. And it ended on their terms.
"I'm glad it was on our shoulders," linebacker Luke Kuechly said. "There were games in the past where we didn't finish the job. It felt good to go out there and finish the game."