MIAMI GARDENS, Fla. – The Panthers' stated goal on defense is to hold opponents to 17 points or less.
The Miami Dolphins scored 16 points before halftime Sunday, putting that goal in doubt. Then Carolina pitched a second-half shutout en route to a 20-16 win.
"Our goal is to give up 17 or less," safety Mike Mitchell said. "We got it, but it was too close."
The Dolphins gained just 119 total yards in the second half and finished 4-for-16 on third downs.
"We didn't play the best football we could (in the first half), but we got together and said, 'The second half is going to be our half,'" said defensive end Mario Addison, who recorded a sack while starting in place of injured Charles Johnson. "We went out there, and everybody gave 110 percent. We outworked them and played Carolina Panthers football."
The Panthers may have allowed 16 points in the first half, but it was the defense that kept Carolina within striking distance. The Dolphins, who were 0-for-2 in red zone efficiency, were forced to settle for three field goals in the second quarter.
"We got off to such a bad start on offense that we dug ourselves a hole," tight end Greg Olsen said. "And as always, our defense kept us in it."
DOLPHINS GO DEEP: Cornerback Captain Munnerlyn had a first half that he'd like to forget thanks to Dolphins wide receiver Mike Wallace.
Wallace – one of the fastest wideouts in the league – had two catches for 110 yards and one touchdown in the first half. He got by Munnerlyn for a 53-yard score in the first quarter and later beat Munnerlyn for a 57-yard gain early in the second quarter.
"It's my fault; I sat on his route and thought a comeback was coming, but I stuck to the route instead and lost him," Munnerlyn said, referring to the touchdown. "Most people in the league run a boot and then a comeback, but he didn't run a comeback. (Quarterback Ryan Tannehill) made a great read on the throw and got me; I haven't given up a touchdown in a long time."
Actually, that's the first touchdown Munnerlyn has given up all season. He hadn't allowed a score since Week 14 of 2012 against the Atlanta Falcons.
"I appreciate my teammates having my back because if we would've lost this game I wouldn't feel great at all," Munnerlyn said. "I still don't feel great, but it is always good to get a win."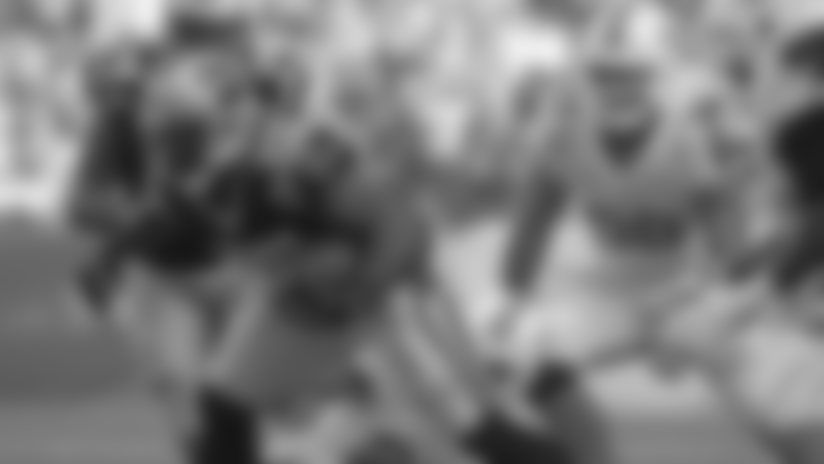 RUN GAME RESURFACES: After Miami limited Carolina to just 31 rushing yards in the first half, the Panthers found some room to run after halftime to help get their offense going.
"It helped open up some things," head coach Ron Rivera said of the rushing attack, which compiled 105 yards in the second half. "They couldn't sit there and play soft. They had to get tight and play eight men in the box. And I think that really helped us."  
On the Panthers' 14-play, 83-yard scoring drive to begin the third quarter, Carolina ran the ball on nine of the final 10 plays. Quarterback Cam Newton converted a fourth-and-1 on the ground and capped the drive with a 5-yard rushing touchdown.
"They were very stingy and they did some things that we didn't expect," fullback Mike Tolbert said. "But we made our adjustments, and the proof is in the pudding."