CHARLOTTE – Long before Mike Tolbert first stepped foot into the Panthers locker room, the fun-loving fullback was a talker.
Now that he's shuffled off to Buffalo, nothing has changed.
Tolbert, who spent five seasons making his mark on and off the field in Carolina, will return to Bank of America Stadium on Sunday to go up against linebacker Thomas Davis, cornerback Captain Munnerlyn and countless other former teammates.
Buffalo is Tolbert's third team. On the eve of Tolbert's pro debut as an undrafted rookie with the Chargers in 2008, Tolbert first met Davis. "When Carolina came to San Diego to play, I remember being at the team hotel talking to him, and I was talking so much trash," Tolbert said. "I was like, 'When I come through there, I'm going to bust you right in your mouth.'
"And then the first time, I went up to him and I cut him, and he was so mad! A great friendship and brotherhood was built out of that."
That friendship endures, but not Sunday. At least not between one o'clock and four or so.
"It's definitely going to be weird going against Mike. He's like a younger brother to me, so it's going to be a healthy competition," Davis said. "I have a job to do and he has a job to do, and we'll go out and be professionals about it. At the end of the game, we'll come together and catch up."
Davis has a new, albeit familiar next door neighbor in the locker room this season. Cornerback Captain Munnerlyn is playing with the Panthers for the first time since 2013. Back in the day, the 5-foot-9 Munnerlyn and the 5-foot-9 Tolbert used to debate who was the more imposing 5-foot-9 player.
"I know he's bigger than me, but I'm definitely taller than him, so I've got to get my pad level a little lower," Munnerlyn said. "I'm not used to that.
"I feel like I'm definitely taller than him. We checked it several times in the locker room. I'm definitely taller than him."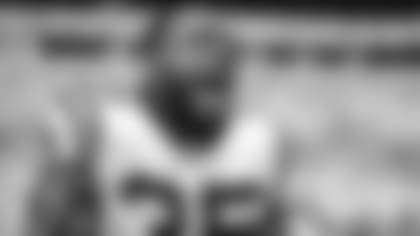 Tolbert was always in the middle of the levity in Carolina and was a team leader in his own way throughout his stay, though his role on the field dwindled his last couple of years. After racking up 209 touches over his first two healthy seasons (he missed half of the 2014 season), Tolbert had 125 touches over his final two years.
The Panthers released him in late January. In early February, a Bills team fresh off hiring former Panthers defensive coordinator Sean McDermott as their head coach signed Tolbert.
In last week's season opener, a 21-12 victory over the Jets, Tolbert toted the ball 12 times for 42 yards and had a 12-yard catch. That marked his most touches since Week 15 of the 2013 season.
"Once I got the ball a good bit, it was one of those things where I was like, 'Hey, I can get used to this,'" Tolbert said. "It felt good."
McDermott said he brought in former Panthers like Tolbert and quarterback Joe Webb because they have "the DNA for the type of culture we're trying to create in Buffalo."
"Coach McDermott is a guy who wants things done a certain way, but at the same time he wants us to be ourselves and have a good time doing our job," Tolbert said. "I'm having a good time up here. I brought the music and all that stuff up here. I'm very comfortable."
Tolbert said he also expected to feel a certain comfort level as opposed to any apprehension in his return to Charlotte on Sunday – though with the likes of Davis lurking, perhaps he shouldn't get too comfortable.
"I try to play the game in a physical manner, and Tolbert does as well," Davis said. "He's a big back, and he's a big part of their offense right now. It's definitely going to be interesting. We're looking forward to it."
Stay connected! Sign up for the free Panthers Pulse e-mail newsletter for daily updates and news about the team, sent straight to your inbox. Subscribe Here
View photos from the Panthers' week of practice leading up to their game against Buffalo.