CHARLOTTE – Thanks in part to a defense matching its best showing of the season in terms of takeaways, the Panthers had kept the Vikings at arm's length all day.
Then in a flash – after Minnesota's biggest chunk play by a wide margin and then the Vikings' first takeaway of the day – the Panthers found themselves a few lengths of the football away from giving up the lead late.
"That's as bad a position as you can be in," linebacker Luke Kuechly said. "That's a pride situation. It takes pride to step in there when things are against you."
Pride, determination and talent – and a dash of good fortune – all came together just in the nick of time, and a goal-line stand of sorts allowed the defense to force a field goal and afforded the offense another chance that it turned into a game-winning march.
"We went out and we had a huge stop," linebacker Thomas Davis said after the Panthers posted a 31-24 triumph. "Held them to a field goal and that really put us in a really good spot.
"It shifted momentum back on our side, and our offense went and made a huge play."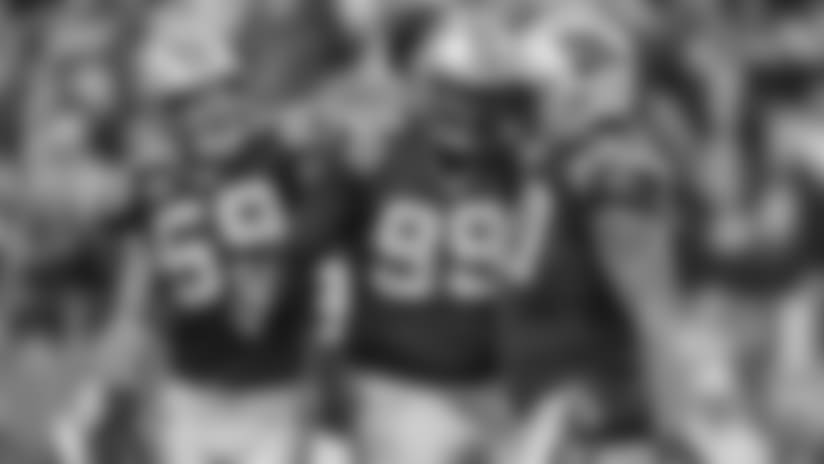 The Panthers had led since running back Jonathan Stewart's second touchdown gave them a 14-7 edge two plays into the second quarter, and the defense shared in that success. The Vikings' opening drive of the game resulted in Carolina's first interception all season by a cornerback, and the offense turned Daryl Worley's pick into a 60-yard touchdown run by Stewart.
Vikings quarterback Case Keenum didn't make it that easy for Carolina's defense the rest of the day – showing a penchant to escape the pocket and convert third downs – but the defense didn't make it easy on Keenum, either. After Stewart's second touchdown, the defense twice held the Vikings to field goals before half, including a stand facing first-and-goal at the 4-yard line in the waning seconds.
"It's kind of drilled into your head," Davis said. "Field goals, takeaways, field goals, takeaways."
The second of three takeaways helped the offense extend the lead, with the defense following up Devin Funchess' 18-yard touchdown reception to open the second half with a Mario Addison strip-sack. Mike Adams' recovery helped set up a Graham Gano field goal for a 24-13 cushion.
But over the game's final six minutes, it almost got away from the Panthers. Wide receiver Adam Thielen got loose for a 52-yard touchdown, 30 yards longer than any other offensive play for the Vikings. Three plays later, quarterback Cam Newton led running back Christian McCaffrey too much with a pass, and the ball bounded to safety Andrew Sendejo, who returned it 34 yards.
Just like that, with 4:36 left, the Vikings sat six yards shy of taking their first lead of the game.
Carolina's defense didn't cave.
Kuechly and defensive tackle Star Lotulelei stuffed a run play on first down. On second down, Keenum had Diggs in the end zone, but cornerback James Bradberry – who got his first interception earlier - recovered to knock it away.
"Please, please, please," Bradberry said to himself as the ball came out of Keenum's hand. "Just throw my arm out there and hope for the best.
"We were in man coverage. I was kind of too far on top of the route. They were throwing a back shoulder fade, and I just made sure I kept my eyes on him and broke towards him. I was able to get out of my break fast enough and was hoping the ball was late. And it was."
On third down – a spot where Keenum had led the league's top-converting unit to success on seven of 13 chances – defensive tackle Kawann Short busted through for a sack. The Vikings had to settle for a 27-yard field goal and a 24-24 tie.
"Guys knew that they were down three and if we hold them to a field goal, it's a big momentum shift for us," Kuechly said. "Anytime an offense goes out and gets the ball on a sudden change inside the 10 and doesn't get a touchdown, it's a gut punch.
"We tried to limit them to a field goal or get a takeaway, and we were able to do that."
Given new life, the offense pounced. Keyed by Newton's 62-yard run, Carolina went back ahead on Stewart's third score of the game.
The Vikings offense still had 1:47 and a timeout, but the Panthers defense made sure Minnesota didn't have a chance. Another Short sack derailed the drive before it could get started, and three subsequent incompletions under pressure sealed it.
"Everybody rushed their butts off," Short said. "We knew we needed to stop it. We needed to get off the field."
View the top photos from Panthers vs. Vikings by team photographer Melissa Melvin-Rodriguez.