CHARLOTTE – The Panthers' five-game losing streak has been frustrating for all involved, but defensive coordinator Sean McDermott is proud of the effort his unit has exhibited in recent weeks.
"We've been playing some good ball lately," McDermott said. "The character of the guys in that room was on display Sunday and during the last couple of weeks – I believe that wholeheartedly."
Carolina's scoring output is out of the defense's control. So too are the short fields the defense has had to deal with in recent weeks.
But the Panthers defense can control how they fit the run and the amount of energy they play with. McDermott has been impressed with both those facets.
"I like the run defense the last couple of weeks," McDermott said. "I think there is a vast improvement to what we saw in the beginning of the season."
After allowing 37 rushing yards against the Eagles, the Panthers surrendered 86 rushing yards during Sunday's 19-17 loss to Falcons. Even more impressive, they yielded just 1.6 yards per carry at Philadelphia and 2.4 to Atlanta's Steven Jackson.
"We are playing better fundamentally," McDermott said. "Guys understand their fits, and they are playing more disciplined. And they are taking a lot of pride in it, too. There's an attitude that comes with great run defense."
And that attitude is an important part of McDermott's philosophy.
"We are a physical defense. That's our identity – playing physical, tough, emotional football," McDermott said. "That's what I ask our guys to do."
The defense's emotional response and linebacker Thomas Davis' massive hit to force a Devin Hester fumble ignited a turnaround in the third quarter.
"They turned the tide," McDermott said. "We just have to continue to find ways to come up with another stop."
---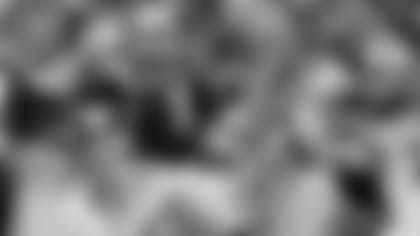 Offensive coordinator Mike Shula explained the play calling when the Panthers, trailing by two with 1:42 left and facing first-and-10 at the Atlanta 32-yard line, ran the ball three consecutive times.
"We felt like we could move the ball and get the best of all worlds," Shula said. "Get the ball in better field goal position, run the clock or make them use their timeouts, get a first down. Ideally, you make them use their timeouts, get a first down and then kick a field goal to win the game.
"We felt like with the calls we had we would have a chance to do that."
But the three run plays gained just four yards, and kicker Graham Gano missed a 46-yard field goal.
Had Carolina been more productive earlier in the second half, perhaps it wouldn't have come down to a long field goal try.
Trailing 6-3 at halftime, the Panthers fell behind 16-3 at the end of the third quarter. On four third-quarter possessions, the Panthers threw an interception and went three-and-out three times.
"That third quarter was bad," Shula said. "We were bad on third downs. And we were just a little off. Just near misses."
Despite those struggles, quarterback Cam Newton's two touchdown passes on consecutive drives in the fourth quarter – a 22-yarder to Kelvin Benjamin and a 47-yarder to Philly Brown – gave Carolina a short-lived 17-16 lead. Newton completed eight of his last nine passes for 162 yards.
"Late in the game," Shula said, "he was probably as good technique-wise as he's ever been."