SAN DIEGO – In the locker room following a dominant performance by his defensive line, Panthers head coach Ron Rivera easily could have singled out either of his standout defensive ends after their latest multi-sack showings.
Instead, he presented the game ball to defensive line coach Eric Washington and assistant defensive line coach Sam Mills III.
No one involved would have rather had it any other way.
"That's a tremendous credit to the players – not only the defensive line but the entire defense," Washington said after ends Greg Hardy and Charles Johnson each collected two sacks and the rest of the team recorded two more. "We've said from Day One that the strength of the group is the group.
"We have some outstanding individual players, but collectively we believe that four guys working together will overcome a lot of things that may work against you – like injuries – over the course of the season."
Hardy and Johnson have been stalwarts all season, and that certainly continued Sunday, when they became the first Panthers pair since 2002 to reach double-digit sacks in the same season.
But they had plenty of help from their backups as well as former backups now filling starting roles in the middle of the line.
Recently acquired defensive end Mario Addison had a sack and a forced fumble that rookie end Frank Alexander recovered. And starting tackles Andre Neblett and Frank Kearse continued to hold the point in place of injured starters Dwan and Ron Edwards.
"Coach Washington says it best: 'It doesn't matter who we put in,' " Hardy said. "Rookies, backups, starters – we're going to match the intensity the coaches set for us and play ball like we know how to play ball."
The list of contributors went well beyond the front four. The secondary had just as much to do with Chargers quarterback Philip Rivers looking like a mere shadow of himself, with 121 passing yards and three fumbles. In addition, linebackers Thomas Davis and Luke Kuechly combined for 18 tackles.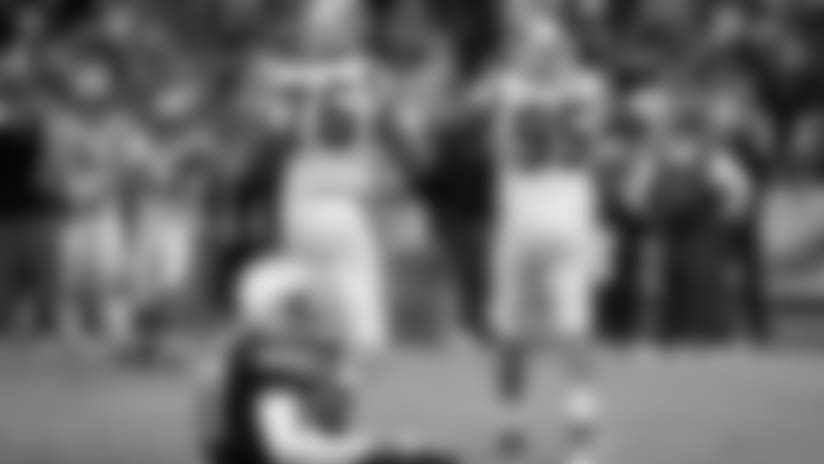 "Defensively, the game plan going in was to be physical up front and try not to give them a lot of opportunities to make plays," Rivera said. "We didn't want to let them get their playmakers started.
"We worked all week on not letting them get things going over the top, not letting them get vertical. That worked very well. I'm very pleased our execution of that."
While everyone on the defensive side helped hold the Chargers to 164 total yards, Hardy and Johnson once again stood out. In addition to their two sacks apiece, each forced a fumble.
Hardy's contributions to the victory began even before the team took off on their cross-country trip Friday.
"His energy level has been unreal," Rivera said. "Charles tweaked his back and was out a couple of days, so Greg was really the leader out there and had two really good days of practice.
"It showed out there today with the way he carried it off the practice field. I'm very excited with the way he's playing, as well as the rest of the defensive line."
Johnson, for his part, didn't look any worse for the wear. It helps that he didn't have to carry as much weight on his injured back as he had the previous two seasons, when he accounted for more than twice as many sacks as any teammate.
With two games left on the schedule, Hardy has 11 sacks, Johnson 10.5.
"I rested it for a couple of days, and I got my back right and performed as well as I could," Johnson said. "Guys have been stepping up and filling roles when they get into the game. They've been producing.
"Once they get their opportunity, they've made the most of it."