SPARTANBURG, S.C. – After Ryan Delaire burst onto the scene last season with two sacks just four days after being signed by the Panthers, the rookie was asked what he planned for an encore.
"A lot more to come," Delaire said. "A whole lot."
Delaire wasn't able to deliver on his prediction like he hoped, recording just a half-sack the rest of the season while playing in eight more games. But Delaire had a lot to overcome and a lot to learn, and now he's in better position to put it all together for more than just a game.
Delaire revealed Monday at training camp that in the days that followed his explosive debut at Tampa Bay in Week 4, he suffered a torn labrum in practice trying to pass rush against right tackle Mike Remmers. Delaire played through the injury – played the next week, in fact – but struggled with it at times.
"This is the NFL. Everybody is playing through something," Delaire said. "It definitely was hard to hold my ground and stay stout against the run. There were times when it popped out during the game, but I just had to suck it up.
"That was tough, I'm not going to lie. I played through it, but I'm happy it's repaired now."
Being slowed by the injury was a big blow for a player who leaned heavily on his speed as a rookie. That speed was on full display in his debut against Tampa Bay, the team that had signed him as an undrafted rookie before waiving him in the final roster cutdown, Delaire beat the Buccaneers for two sacks and had a third one wiped out by a last-second intentional grounding of the ball.
But after that dazzling debut, Delaire's lone sack was a shared one in Week 11 against the Washington team that had added him to the practice squad for the first month of the regular season before the Panthers signed him.
It wasn't just the injury that slowed Delaire. He was raw as a pass rusher, and the film showed it.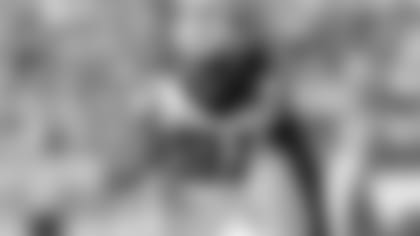 "I felt very positive about everything I was doing, but I just realized really quick that everybody else watches film, too," Delaire said. "I realized that you can't just rely on the same thing all the time because eventually somebody's going to be able to catch onto what you're doing by watching the film.
"I was mainly relying on speed. After a while, I realized you're not going to always win with that kind of technique."
Delaire said he has a "better arsenal" of pass rush moves now, developed through working with his coaches and fellow defensive linemen and through game experience.
"I learned a lot from Coach (Eric) Washington about having to bring a different arsenal to the game," Delaire said of his defensive line coach. "And experience helps. Working with our other defensive ends and tackles, I've been able to learn a lot. That experience from last year helps a lot coming into this year."
Delaire was signed off Washington's practice squad the day after the Panthers placed Charles Johnson on injured reserve/designated to return with a hamstring injury. Johnson and Kony Ealy are expected to start for the Panthers this season, but Delaire is in position to secure a second-team spot and possibly be a top choice for Carolina on obvious passing downs.
But as Delaire knows from the way his rookie season began and then how it ended, he can't take anything for granted.
"I'm never comfortable," he said. "I'm not the type to ever feel like I've arrived or that I belong here. I have to earn everything I get.
"I feel like I always have to make a mark. At the end of the day, I still have to prove a point."