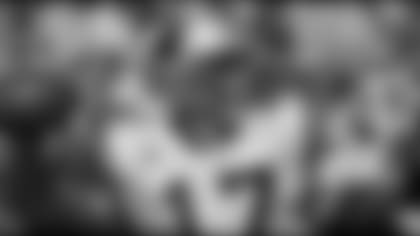 Jake Delhomme has directed the Panthers to the playoffs in three of the four seasons when he's played all 16 games. (PHOTO: MATTHEW BRINKLEY/PANTHERS.COM)*
CHARLOTTE -- Surviving a decade in the NFL requires endurance, good health, a keen degree of skill, some luck and a short memory.
Oh, and selective ignorance.
It'sthe last of those characteristics that is serving quarterback Jake Delhomme most this week as he begins putting the five-interception,one-fumble nightmare of Saturday's 33-13 divisional-playoff loss to Arizona behind him.
"It's hard just to get away from it," he acknowledged. "It's something that you're going to have to think about a good bit.I know I will."
But for him – and his family – thefirst tip is to tune out the radio chatter, the words in thenewspapers, the venting in various on-line forums.  This is nothing new for the quarterback and those closest to him.
"I've been telling them that since the 2003 season, and that's when everything was hunky-dory," he said.
For most of the 2008 campaign, things were just that. Aside from a four-interception hiccup against Oakland in Week 10, he flourished, providing enough pop to the passing game to keep defenses honest while DeAngelo Williams and Jonathan Stewart blasted away on the ground.
Delhommestarted all 16 games for the first time since 2005.  It's probably not a coincidence that the Panthers did not qualify for the playoffs in the following two seasons that saw him miss a combined 16 games.
For that matter, the Panthers have made the playoffs in three of the four campaigns in which he played in every regular-season game; the only exception was in 2004, when a bushel of other injuries – particularly to wide receiver Steve Smith and running backs Stephen Davis and DeShaun Foster – derailed the team and forced it into catch-up modeafter a 1-7 start.
Even then, the Panthers would have still made it to the playoffs that season had they won in Week 17 against the NewOrleans Saints – a game they lost by three points, one that wasn't decided until a game-tying, 60-yard field-goal attempt was blocked at the final gun.
More has gone right than wrong for Delhomme in hiscareer, and he understands that each extreme will be analyzed disproportionately.This is the nature of his job and his sport; being an NFL starting quarterback means you are, for better or worse, perhaps the most easily recognized individual in a city a region.
"When you play quarterback, when you sign that contract to play when you're younger – when the good comes, it's too much good, and when the bad comes, it comes," he said. "But that's all part of it.You've got to learn how to deal with it and accept it and move on.
"So I think you have to give yourself an opportunity to do the right things. You don't listen to too much; you don't read too much. You listen to coaches; you watch the film; you know where you can improve and that."
His head coach remains in his corner.
"He had a bad game," John Fox said. "He didn't have a bad season. He's not a bad quarterback. He had a bad game. It happens."
Ithappens, and it hurts. But it eventually heals – like the right elbow that was damaged 16 months ago, repaired and rehabilitated. The result of that process was a full season at the Panthers' helm and the most regular-season wins for the franchise in a dozen years.
So one can understand why Delhomme has faith in his ability to bounce back, even after a game like Saturday's. He's dealt with worse circumstances.
"I've been at this for a few years now," Delhomme said. "It's certainly disappointing to end the way it did, because we had so many more highs than low's (in the 2008 season). But that's a part of it.
"Things happen that way for a reason – I'm a firm believer of that."