CHARLOTTE – Mario Addison and Frank Alexander are the first two names on the Panthers' alphabetical roster, but with a pair of Pro Bowl-caliber players at their position, they're not going to be the first names called on game day.
But when the Panthers' top reserves at defensive end behind Charles Johnson and Greg Hardy are called upon, they'll be ready to answer the call.
"We should be able to put another group in there and play just as well as the starters," Alexander said. "We're working hard to meet that goal, but it isn't easy because we've got a good group of leaders. You want to look good in those guys' eyes."
Johnson, who backed up Julius Peppers for three seasons before piling up 33 sacks as a starter the last three seasons, understands the value of having quality depth, especially at a physically demanding position. The Panthers' ends will be in constant motion in Sunday's season opener, ideally forcing quarterback Russell Wilson to run around a lot when his Seattle Seahawks visit Bank of America Stadium.
"We can be a complete defensive line," Johnson said. "In practice, we're a good, solid group. If one man goes down, the next man can step up. I think they've got that mentality, but it's all about putting it on the field."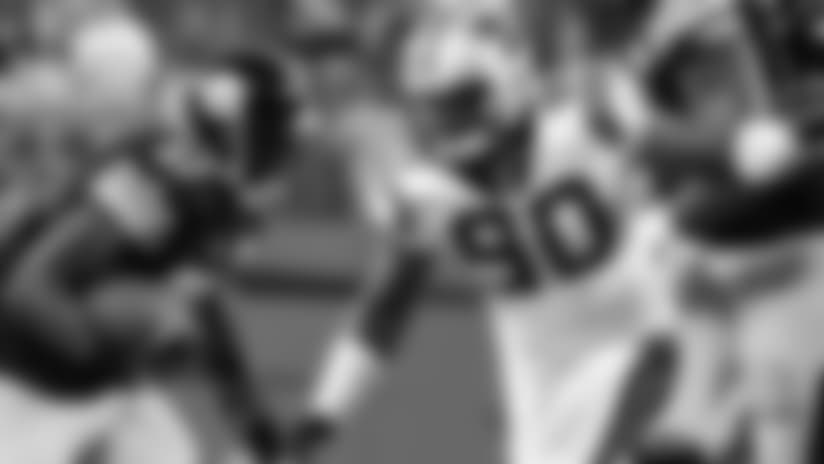 Alexander, a fourth-round draft choice in 2012, fit the bill as a rookie. Playing in all 16 games with three starts, he ranked third on the team behind Johnson and Hardy with 18 quarterback pressures and showed a knack for knocking down passes.
Like almost every rookie, he also battled inconsistency at times but feels more prepared this season.
"There are also areas I can improve on as far as rushing the passer and getting on edges a lot better. I've been working on that every day, trying to get that down pat," Alexander said. "I'm a lot more comfortable. I've got a year under my belt, so it's not like I don't know what I'm doing. I have a year in the playbook now, so it's second nature to me."
Count head coach Ron Rivera among those impressed by Alexander.
"He's got great explosiveness and athleticism, and I expect him to take the next step," Rivera said. "I expect him to be in the conversation where you go, 'Wow, you know what: If we lose one of these other two guys, we're not going to worry.'"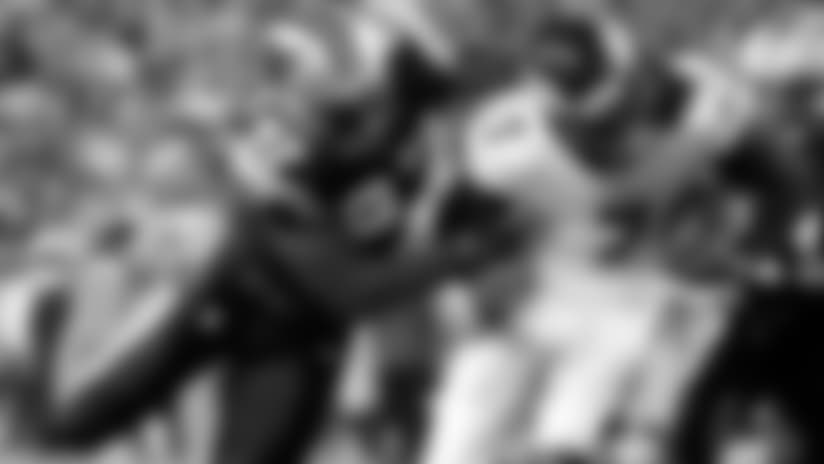 While Alexander works on strengthening a skill set similar to that of Johnson, the Panthers are developing Addison into a player who can feature Hardy-like versatility. While Hardy contributed heavily on special teams at the start of his career and occasionally lines up in the interior of the line, Addison is a special teams standout who can line up at linebacker if needed.
Addison actually started at linebacker in the final home game of the 2012 season.
"Mario is going to be a little bit of a mixer for us. He can also do some things standing up, as well as special teams," Rivera said. "He's a speed rusher. He's got great ability to get off the edge and make something happen. But he's also a little more stout than people give him credit for."
In the latter stages of Addison's second NFL season last year, the Panthers became his fourth team. The Chicago Bears signed him as an undrafted free agent out of Troy in 2011, and he spent the first 10 games on their active roster before being waived and claimed by Indianapolis. He saw action in eight games with the Colts and Redskins in 2012, but both failed in their attempts to stash him on their practice squad.
The slew of transactions ended when the Panthers signed him off Washington's practice squad in early December.
"It feels good to be on a team that knows your talent and that uses it," Addison said. "They use all of it. I want this to be my home, and every day I'm going to continue to progress and show them that I belong here."
At this point in his career, Addison readily acknowledges that he belongs behind Hardy and Johnson. He embraces the role, in fact, saying that the dynamic duo is "showing me the right way" to be a defensive end.
But when Addison's number is called, he – like Alexander – has the mentality that he'll play second fiddle to no one.
"When you get your chance, you've got to capitalize – make them know your name," Addison said. "When those guys tire, those are big shoes to feel, but you've got to get in there and show what you can do."