ORLANDO – Between drama off the field and defections on the field, some fans may feel like the sky is falling.
But head coach Ron Rivera, a constant in a sea of change, sees the sky as the limit.
"I'm in a great spot right now with the team that we have, the organization that we have," Rivera said. "Yeah, there's a little bit of flux right now, but the things that are in place – the infrastructure – it's ideal, and we're trending up.
"We've got players that we like and a terrific coaching staff. Working with (general manager) Marty (Hurney) again has been terrific, and the people around him are outstanding. What's not to love?"
The Panthers are undergoing an ownership change, all three of Rivera's coordinators are preparing for their first season, and free agency brought significant losses on both sides of the line of scrimmage with left guard Andrew Norwell and defensive tackle Star Lotulelei finding new homes.
But Rivera used a question from the media gathered at the NFL Annual Meeting about Cam Newton and whether 2018 is a "pivotal year" for the franchise quarterback to remind folks of Carolina's enviable starting point come the fall.
"I wouldn't say pivotal. As young as he still is, he's been rookie of the year, player of the year, has been to the Super Bowl, and now he's been in the playoffs four out of five years," Rivera said. "I don't think he's wasting away, don't think he's missing his opportunity. I think he's right at the beginning of it.
"We're talking about a team that's trending up and that I'd like to believe can continue to trend up. We had a good year last year (11-5 record), and I'd like to think we can continue that."
The reality is that things are always changing in the NFL, and the challenge for winning teams is to stay the same in that regard through the inevitable shifts. Rivera chose to move on from offensive coordinator Mike Shula in favor of Norv Turner this offseason; and former defensive coordinator Steve Wilks took the Cardinals head coaching job, opening the door for defensive line coach Eric Washington to take over. The Panthers also chose to not renew the contract of special teams coordinator Thomas McGaughey, handing the role to assistant and former player Chase Blackburn.
That's a lot of change, a lot for the players to digest. Or, just maybe, it's just the right amount of change.
"I will say this: The thing that is going to help us is that when Chud (Rob Chudzinski) came with us (as offensive coordinator when Rivera came to Carolina in 2011), he basically took Norv's offense and put it in," Rivera said. "Chud put that in, then Mike (Shula) took it and ran with it. Now Norv has told me that there are a lot of similarities, and this transition he believes will be fairly seamless.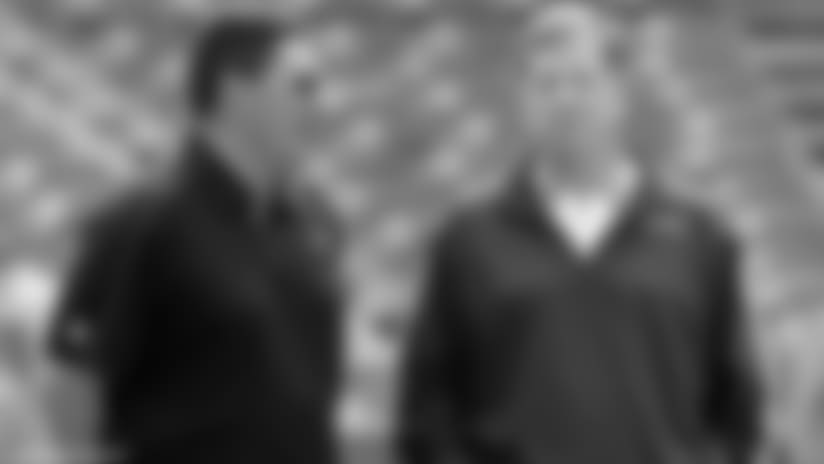 "On the defensive side, it's the same group of coaches, it's the same thing. Eric (Washington) has been a part of what we've done for the last seven seasons, and he's earned his opportunity now. He does want to put his own flair on it, as he and I have talked about, which is outstanding. On special teams, it's the same system we've had since Bruce DeHaven started with us (in 2013). They've kind of kept that in place, and Chase (Blackburn) played for Bruce.
"There are some new faces, but there aren't enough new faces to make it disruptive. There's enough familiarity and similarities for the players to keep running with it, so I don't expect us to struggle in terms of picking things up and developing. We should just be able to continue to go and trend up."
The new faces that will bring the most change wear helmets, and Rivera offered his thoughts on some of the free agents the Panthers have added the last couple of weeks.
On the addition of wide receiver Torrey Smith via trade: "I think bringing Torrey in is huge. We saw that last year when we didn't have Curtis (Samuel) and didn't have Damiere (Byrd) on the field, we didn't have speed. It changes the way people approach you. I think now adding a guy who can run with those two young men, that could be very dynamic for us on the offensive side."
On bringing in cornerback Ross Cockrell and safety Da'Norris Searcy after losing corner Daryl Worley via the Smith trade and releasing safety Kurt Coleman: "They've both started in this league, both have been very productive in this league.
"With Ross, it's about the experience, which we kind of lacked at the corner position the last couple of years obviously. We just needed to have a much more veteran guy in there.
"Searcy is a guy who could help solidify the secondary for us. They both have skill sets that we like. We look for ball skills, guys that can track the ball and go up and make a play on it. You also look for a guy who is a downhill player who is also a very secure, last-of-the-line tackler. He fit the bill for all of those for us."
On defensive tackle Dontari Poe: "Dontari is a very similar player to Star, but I think he's a little bit more of a pass rusher as opposed to what Star was. They're both very talented players, but I think our group can get better (with Poe)."