INDIANAPOLIS – The Panthers got spotty production by their lofty standards at defensive end last season, but defensive line coach Eric Washington believes his unit already has the pieces in place to produce next season.
Still, Washington didn't show up at the NFL Scouting Combine to catch some sun.
"My unit continues to work extremely hard. We're very proud of them. We anticipate big things from them in the future," Washington said. "But we're going to continue to look at this draft and try to identity players that fit us specifically to see how we can help ourselves."
Washington echoed the sentiment of general manager Dave Gettleman and head coach Ron Rivera that the talent pool is deep at defensive end in this year's NFL Draft, and the trio has gotten a chance the last two days to get to know the prospects better.
They'll get to see the defensive ends perform on the field at Lucas Oil Stadium on Sunday, after which they'll have a better feel for which guys could possibly perform on the field for the Panthers on Sundays.
"It's a deep draft – we anticipate this being an extremely deep draft at the defensive end and defensive tackle position," Washington said. "There are a lot of guys out there that fit our system. We're looking forward to getting to know these guys, to evaluate them and see who may be available to us."
Carolina holds the 30th overall pick in the first round of the draft on April 28, and there could be some elite-level pass rushers with local ties still sitting there. Most expect (but of course don't know) that Joey Bosa of Ohio State, DeForest Buckner of Oregon and Shaq Lawson of Clemson will be long gone by the time the Panthers pick, but similar talents like Clemson teammate Kevin Dodd and Florida prospect Jonathan Bullard – a native of neighboring Shelby, N.C. – could still be on the board.
Then there are prospects like Emmanuel Ogbah of Oklahoma State, a player who could be worthy of Carolina's first pick but who potentially could still be there when the Panthers are scheduled to pick late in the second round.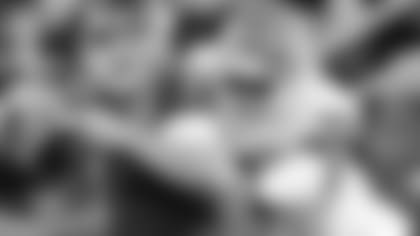 Two years ago, the Panthers had a first-round grade on defensive end Kony Ealy and pounced when he was still available in the second round. Ealy recently became the first player to ever record multiple sacks and an interception in the Super Bowl, tying the all-time Super Bowl mark for sacks with three.
Ealy is one of the reasons – but not the only reason – the Panthers can look for draft-day bargains at defensive end but could easily decide to instead act on bargains at other positions.
"You look at who started for us against Seattle the first time we played them," head coach Ron Rivera said, referencing a dramatic victory at the Seahawks in Week 6, a game in which the Panthers recorded four sacks. "We had Wes (Horton), we had Ryan Delaire, we had Mario (Addison). We didn't have Charles (Johnson), we didn't have Jared (Allen).
"We started a group of young players that had to step up, and they did. I feel pretty comfortable. Then you look at what Kony Ealy has done, and there is reason to be optimistic about that young group of guys."
The Panthers won't have Allen going forward after he recently announced his retirement. They have Johnson, who missed half of last season with a hamstring injury and has a year remaining on his contract, but there has been speculation about his future.
Regardless of how things play out with Johnson, the Panthers have explosive developing players in Ealy, Addison and Delaire, a solid veteran in Horton and two intriguing young prospects Rakim Cox and Arthur Miley.
"There are some interesting guys in this draft," Gettleman said. "But very honestly, I'm excited to see what Arthur Miley is going to do, what Rakim Cox is going to do. I'm looking forward to it."
Cox, a rookie in 2014, flashed as an invited tryout in last May's rookie minicamp. He then shined in the preseason, actually working with the first team for about a week after an explosive preseason performance against Buffalo. He ended up spending the season on the practice squad.
Miley made some waves last offseason as an undrafted rookie as well, but he spent the season on injured reserve with a knee injury.
When healthy, the Panthers' current crop of defensive ends have the skills that Washington and Co. covet. But, so do some of the players at the combine.
"The game is played on the perimeter very fast, so you need guys who can run the football down, who can make plays sideline to sideline and towards the quarterback," Washington said. "This is the start of the evaluation process for the individuals that will be in contention to be drafted by our organization. We're excited to look at these guys and get to know them better."
Take a look back at current Panthers players in action at the NFL Scouting Combine.