The 2013 Panthers entered Week 16 with a 10-4 record. They'd won nine of their last 10 games after starting the season 1-3 — the only loss coming at the hands of the Saints in New Orleans in Week 14.
Following a win over the Jets, the Panthers were back in action against their division rival for the second time in three weeks, with the winner having an inside track to the NFC South title.
On that rainy Sunday in Charlotte, the Panthers found an unlikely hero in wide receiver Domenik Hixon, who caught a 14-yard touchdown pass with just 28 seconds left to help Carolina clinch its first playoff berth since 2008.
With the help of NFL GamePass, fans can now re-live victory with a full replay of the 17-13 win. You can click the above link to watch on Panthers.com or view it here on YouTube:
Originally a Broncos' fourth-round pick in 2007, Hixon had spent most of his career with the Giants, winning two Super Bowls with the club. He signed a one-year deal with the Panthers in 2013 and played mostly special teams, totaling just three receptions before Week 16. But after wide receiver Steve Smith Sr. injured his knee in the first half against the Saints, Carolina turned to Hixon.
"When Steve can't go, you know there is something wrong," Hixon said that day. "It was like my big brother, and I wanted to make him proud."
Hixon was used to lining up for Smith when the Panthers' legend needed a breather in practice, but this was a tall task given the game's stakes. Hixon proved to be up to the moment, catching the game-winning touchdown pass in the front-left corner of the end zone from quarterback Cam Newton to cap a five-play, 65-yard drive.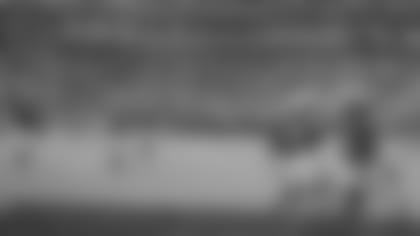 "I'm really happy for Dom," Smith said following the game. "He's been awesome to have in the room. People may question this receiving corps (and say) it doesn't have much depth, but when we are asked to do our job, we do it. And we do it well."
That would be the last touchdown reception of Hixon's injury-plagued NFL tenure. He signed a one-year deal with the Bears the following spring but tore his ACL for a third time during OTAs. Hixon announced his retirement shortly afterward.
In all, Hixon caught seven passes for 55 yards in 2013 — none bigger than that touchdown in Week 16 to send Carolina to the postseason. The Panthers would clinch the NFC South with a 21-20 victory over the Falcons the following Sunday.
Oh, and also in that Week 16 game, linebacker Luke Kuechly had a decent day. He had an interception and a team-record 24 combined tackles, tying David Harris for the NFL-single game record (tackles as an official statistic only began in 2000).