CHARLOTTE – Throughout the season, whenever wide receiver Steve Smith was held out of practice or given some rest, eight-year veteran Domenik Hixon took his place.
"If they are giving Steve some breaks, he fills in," tight end Greg Olsen said. "He knows what to do. A guy like Hixon – he is the epitome of a professional."
Smith – Carolina's all-time leading receiver – injured his left knee midway through the first quarter of Sunday's game against the New Orleans Saints when he tried to leap for a pass.
"When I planted to jump for the ball I felt it pop," Smith said.
Smith returned for one play in the second quarter before leaving for the remainder of the game.
"When I went back out there and I tried to go, I couldn't," said Smith, who will have an MRI tomorrow.
Enter Hixon – an offseason free-agent acquisition who began the game with just three catches for 21 yards as Carolina's fourth receiver.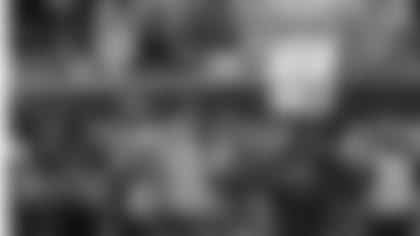 "The tough part for him is that he plays the same position as Steve," head coach Ron Rivera said.
This time, however, Hixon wasn't taking Smith's place for a few snaps in practice. He was replacing him in a tight game against the team tied with the Panthers atop the NFC South.
"When Steve can't go you know there is something wrong," Hixon said. "It was like my big brother, and I wanted to make him proud."
Smith watched from the locker room as the game progressed.
"I was icing," he said. "In the third and fourth quarter I wasn't as happy as I am now."
When Carolina took the field for its final possession of the game trailing by four points and with 55 seconds left, Hixon had one catch for four yards and the Panthers had passed for just 116 yards.
But after a 37-yard completion to wide receiver Ted Ginn, a 14-yard completion to tight end Greg Olsen and a spike from quarterback Cam Newton, the Panthers faced second-and-10 from the Saints' 14-yard line with 28 seconds to go.
He ran the route Smith would have run -- a corner route against cornerback Corey White and was open.
Newton looked for Hixon the entire way and threw the pass in the face of a blitz. Hixon slid to ground, got his hands underneath the ball and secured the catch in the end zone.
"Domenik came through," Rivera said.
The unlikely hero scored the game-winning touchdown and left an indelible mark on the Panthers' playoff-bound season.
"I'm really happy for Dom," Smith said. "He's been awesome to have in the room. People may question this receiving corps (and say) it doesn't have much depth, but when we are asked to do our job we do it. And we do it well."