DETROIT – The story of the Carolina defense against Detroit went as follows: frustrating beginning; dominant middle; frenetic ending.
At the start of the second quarter, with the game tied 3-3, flags began to rain down on the Panthers defense as the Lions marched down the field.
First, a facemask penalty on linebacker Luke Kuechly. Then a facemask penalty on linebacker Shaq Thompson on the next play. Two plays later, a pass interference call on cornerback Daryl Worley in the end zone.
All of that led to a 1-yard touchdown run by Lions running back Zach Zenner, and it also led to a meeting of the minds on the Carolina sideline.
The defensive players gathered around Kuechly, who knew everyone needed to press the reset button after such an agonizing series.
"We just had to respond in a positive way," Kuechly said. "It wasn't so much what they did on that drive. Obviously they made some plays, but I had a facemask, they called another facemask. We had to stay away from that and play better."
Added linebacker Thomas Davis: "Don't get frustrated, keep your calm, it's still early and we have a lot of football left to play. At that moment we had to keep everybody focused."
Here's what happened on the next seven Lions possessions that followed:
Three plays for minus seven yards to end the half
Strip-sack by Kawann Short recovered by Davis on the first play of the third quarter
Turnover on downs at midfield after Peppers stuffed Zenner on fourth-and-1
Two more sacks to force another punt to start the fourth quarter
"We were dominating," cornerback Captain Munnerlyn said matter-of-factly.
Just look at the numbers: 23 plays gained 29 yards. The Lions had two first downs.
The Panthers were completely locking down the Lions offense, and thanks to three touchdown passes from Cam Newton, Carolina carried a 27-10 lead into the middle of the fourth quarter.
But the lead wasn't safe, and the pace of the game changed quickly.
In about three minutes, Detroit quarterback Matthew Stafford completed seven straight passes – the last one finding tight end Darren Fells in the end zone for 4-yard score with 5:56 to go.
A couple minutes later, the lead shrunk to three when Stafford connected with Fells for a 20-yard touchdown.
The defense that was once dominating was now reeling.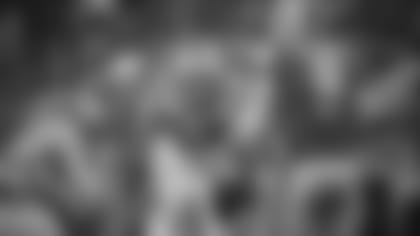 "Yes, there is concern there," head coach Ron Rivera said of the defensive lapses late. "I'm disappointed in some of the things that happened out there.
"We have to control things better."
A game that was in complete control was suddenly hanging by a thread. But Newton and the offense came through on third-and-9 with 2:30 remaining. Wide receiver Kelvin Benjamin picked up 17 yards on a skinny post, and the game was won.
"It's the same thing as last week (versus New England) – we just have to do a better job of finishing," said Davis, referencing a 14-point fourth-quarter lead that withered away against the Patriots. "Our offense the last two weeks has done a good job of building a cushion for us. As a defense we pride ourselves on playing tough, physical defense and getting off the field. We have to be better."
Kuechly, who took accountability for too many missed tackles, conveyed the same message after a second straight victory that was more dramatic than he would have liked.
"You have to expect it when you play guys like Brady and Stafford. Those guys are so good, and they can catch up fast," he said. "But we can't relax. We played well in spots, but at the end of the game you have to tighten up."
View the top photos from Panthers vs. Lions by team photographer Melissa Melvin-Rodriguez.