CHARLOTTE – Last Monday, offensive coordinator Mike Shula explained how the Panthers' offense was doing its best to put back-to-back heartbreaking losses behind them and move forward.
"I know it doesn't make sense right now, because we are 0-2," Shula said, "but guys are really taking ownership."
After Sunday's 38-0 victory over the New York Giants, the football world is trying to make sense of what happened in Week 3 at Bank of America Stadium.
For Shula, Sunday's win was evidence of hard work paying off.
"We all were feeling as low as you could possibly feel last week for obvious reasons," Shula said. "But our players have been resilient. You hate to use a word like that so early in the season, but they really have been. They never missed a beat.
"You just have to keep believing in yourself and reminding yourself that the hard work is going to pay off, and it did."
Quarterback Cam Newton played his best game of the young season, equaling his career high with three touchdown passes and running for another.
He targeted wide receiver Brandon LaFell for two of those touchdowns, which was a welcomed sight for Shula.
"Brandon just quietly does his job," Shula said. "I know Cam has a lot of confidence in him. We all do, but it's probably most important for Cam to have the confidence that he has in him. He did a great job, and Cam called his number and he produced."
Running back DeAngelo Williams was another Panther who produced, racking up a season-high 120 rushing yards on 23 carries for his team-record 18th career 100-yard rushing effort.
"He's kind of picked up where he left off at the end of the year," Shula said. "He's running hard and practices hard, and we just need him to keep doing it."
Williams is off to a tremendous start in 2013, ranking as the NFL's third-leading rusher with 291 yards.
He's rushed for more than 80 yards in three consecutive games and only twice in his career has he rushed for more than 80 in four consecutive games.
"I remember our first conversation after I got the job; he was a lot like you guys –curious to see what we were going to do and how I felt about running the football and him and all that kind of stuff. All good questions," Shula said.
"I just told (the running backs) that we are going to try to keep balanced, try to take things they've been doing well and keep building on those. I talked to them about the importance for us to able to run the football and what it means for our offense and for Cam."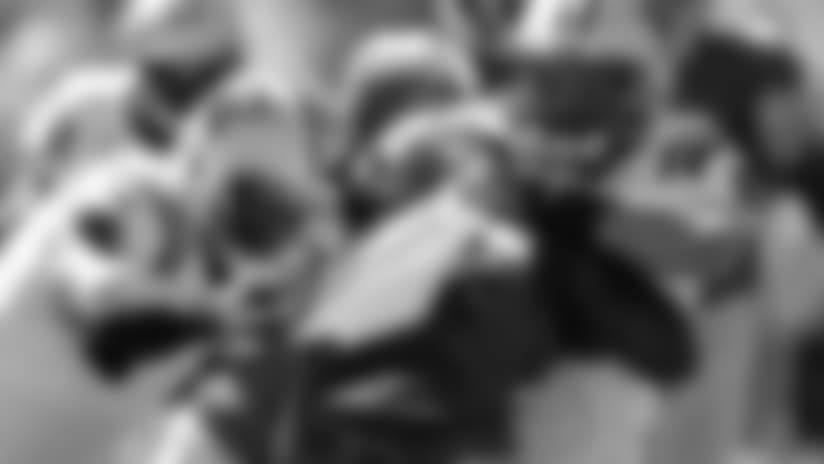 DOMINANT DEFENSE: For a defensive coordinator, it doesn't get much sweeter than a shutout against a quarterback with two Super Bowl rings in front of the home crowd.
"Beautiful Carolina Sunday afternoon," defensive coordinator Sean McDermott said with a smile. "The fans were great. The intensity was there. The fans and the players fed off one another, which was outstanding."
The players gave the crowd reason to celebrate. Carolina tied a team record with seven sacks of Eli Manning and completely rattled the Giants' offense.
"The defensive line was disruptive, and at times, dominant. As good as I've seen," McDermott said. "The great thing about was it started early. Any time you can hit the quarterback early in the game, you've got a chance to be successful."
"We were saying the whole time they were having trouble blocking us. Not only in the passing game but in the run game also. When you play aggressive and you play fast, good things happen."
McDermott also praised the work of the secondary, particularly undrafted rookies Robert Lester and Melvin White, who each recorded their first career interception.
"Tremendous job. Young guys (were) asked to step up, and they were prepared," McDermott said. "They all knew what was going on and they attacked the football in the air. I was happy to see that."
All wins count the same, but McDermott acknowledged how special it was to beat the Giants in such dominant fashion.   
"To win with the margin that we did – any time you can shut out a team defensively, it means something," McDermott said. "Not only to the coaches, but probably more importantly to the players. They've worked extremely hard.
"It's one win, and we have to continue to grow and get better."