CHARLOTTE – For the first three quarters Thursday night, Bank of America Stadium was a happy place, with players and fans alike riding a wave of positivity as the Panthers built a 23-3 lead in a game that had to have.
Then came the fourth quarter.
The Saints dominated the final 15 minutes, and concerns over linebacker Luke Kuechly's health beyond football dominated the thoughts of everybody in the building.
It almost felt like the Panthers lost. Rest assured, they did not.
"I'm not about to let you guys downplay this win," quarterback Cam Newton said after his team kept its season afloat by scratching and clawing its way to a 23-20 victory. "We won. I'm excited that we won, and now we get to go into a mini-bye week and get healthy. That's how I'm feeling."
Newton had already expressed his heartfelt concerns for Kuechly, who was the fourth key player to go down in the fourth quarter but whose emotional exit put an eerie pall over the proceedings. Television cameras caught a sobbing, seemingly shaken Kuechly being wheeled off on a cart for what turned out to be a concussion check.
Back on the field, as those and in the stands and probably some of the sidelines were still thinking about the scene involving Kuechly, the Saints put another negative image in everyone's head. Just four days ago, the Panthers led the visiting Chiefs 17-3 in the fourth quarter before suffering a stunning 20-17 loss.
Five plays after Kuechly departed, Saints quarterback Drew Brees tossed a touchdown pass to pull New Orleans within three points with about three minutes to play, and the Saints subsequently kicked the ball back to an offense that had suffered through three consecutive three-and-outs since Pro Bowl center Ryan Kalil exited with soreness in his shoulder.
"Emotionally, it was kind of a tumultuous game. I'm not real happy with how we finished the game," tight end Greg Olsen said. "It was a weird night. The only positive of this entire thing is that we won. Which, is a huge positive of course."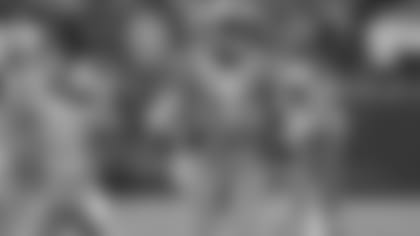 Indeed, the Panthers did win. The first two plays on their next drive only added to the feeling of foreboding, to a sense that Brees would soon have the ball with a chance to deal a second straight stunning loss to the Panthers - in this case one that might well be impossible to overcome for the fate of the season.
But, after the first two plays of the possession yielded nothing and the Panthers still needed 10 yards to avoid giving the Saints the ball back with more than two minutes to go, Carolina summoned up the strength to make a game-winning play.
"My job was to just give him the opportunity, give him the chance," Newton said. "And he didn't disappoint."
He was wide receiver Kelvin Benjamin, who himself had left the game for a portion of the first half with a shoulder injury suffered on a 19-yard catch at the start the second quarter. This time it was an 18-yarder, a snag in the center of the field for another set of downs that eventually left the Saints with just 14 seconds to pull off a miracle.
"We needed a play. We needed our playmakers to make a play," fullback Mike Tolbert said. "Coach called it, Cam dropped back and threw it to one of his favorite targets, and Kelvin went up and made a play.
"Big players make big plays in big games."
And make no mistake – this was a big game. Lose, and the Panthers would be 3-7, including 0-4 in the NFC South facing a two-game West Coast swing against teams with a combined record of 13-4-1.
The road trip still presents a challenge of epic proportions with stops in Oakland and Seattle, but it also presents opportunities with just two games now separating Carolina from the division-leading Atlanta Falcons.
No, no one headed home as happy as they thought they would when they were basking in the home team's 20-point cushion. It was only natural to wonder at what cost the victory came and what news would follow on Kuechly's condition.
But you have to know that at least part of Kuechly's emotion in the moment had to do with having to leave a game that still hung in the balance. Aside from a positive personal prognosis, you know what Kuechly wanted more than anything else.
"To see someone we call our heartbeat go down in that type of situation, it really hurt," Tolbert said. "But at the same time, we wanted to go out and get the win for him."
View game action photos from Carolina's 23-20 victory over New Orleans.