Show people he can perform well. Open more eyes. Prove himself.
And as Foreman heads into his first year with Carolina and fifth year of professional football, he said he feels like he's been counted out before. Last season, he made the most of an opportunity to play a key role in Tennessee's run to an AFC South win, and now he's ready to build on that year with the Panthers.
"I just feel like a lot of people counted me out," Foreman said. "Last year was a year that I felt like I was able to open some eyes and show people what I could do."
Foreman joined the Panthers on a one-year deal this season after performing well for the Titans in the place of an injured Derrick Henry. He totaled 566 yards and three rushing touchdowns in nine appearances, adding 123 receiving yards on nine catches.
"I think he's a natural runner," McAdoo said. "He's a big guy. He knows he has a really good feel for setting up the blocks, setting up the keys, reading the defense. He's got a little wiggle to him for a big guy, and he's a guy we expect to fall forward for some yards for us."
Foreman punctuated a steady camp with a 2-yard receiving touchdown in the Panthers' preseason finale win over Buffalo. Baker Mayfield said he wasn't thrilled about his pass on the play, which he threw behind Foreman, but the running back still hauled in the ball with an outstretched right arm on fourth down.
"(It was) something simple, you know what I mean?" Foreman said. "Everybody was kind of wild about that little one-hand catch, but I feel like that's kind of normal. It was great."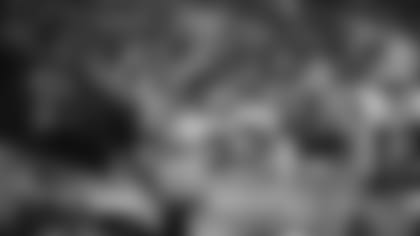 Foreman caught two passes against the Bills, tallying 10 yards in the preseason matchup. His effort in the receiving game drew praise from head coach Matt Rhule afterward.
"I thought D'Onta made a great catch on the goal line," Rhule said. "That's one of the things that D'Onta has been trying really hard to prove. 'Hey, I can catch the ball as much as a power back.'"
And Foreman said he has enjoyed getting to know Mayfield. He said his quarterback's attitude heading into his first season at Carolina has resonated with him.
"I think he definitely came in with a chip on his shoulder," Foreman said. "He's got a lot to prove, and I feel like a lot of us do. As a team, we've got a lot to prove."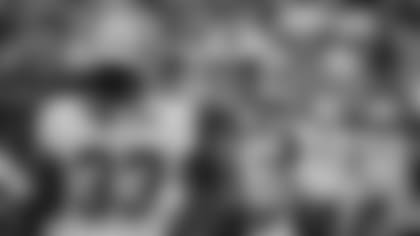 That mindset works well with Foreman's mentality, as he's working to show his good year with the Titans can lead to another step forward with the Panthers.
"Coming into this year, it's another big year for me," Foreman said. "(I've) got to show people I can still do it. Last year wasn't a fluke. I've just got to continue to work hard and get better each and every day."