MAYOCK'S TOP 4-3 OUTSIDE LBs
Jarvis Jones
6-2, 245 pounds, Georgia
Jones was a dynamic playmaker off the edge in his two years with the Bulldogs and his production and athleticism earned him a high first-round grade... Jones was the 2012 SEC Defensive Player of the Year after leading the nation in sacks (14.5) and tackles for loss (24.5)... Jones was a consensus All-American in 2011 and 2012 and led the SEC in sacks and tackles for loss in both seasons.
Khaseem Greene
6-1, 241 pounds, Rutgers
Greene was a defensive back in his first three years at Rutgers, but after a position switch prior to his senior season, Greene is one of the top outside linebackers on the board... He posted 136 tackles, 12 stops for loss, six sacks and two interceptions in 2012... Greene was named Big East Defensive Player of the Year in 2011 and 2012, and most expect him off the board in round two.
Arthur Brown
6-0, 241 pounds, Kansas State
Following his transfer from Miami (FL), Brown posted back-to-back 100-tackle seasons at KSU... Brown was named Big 12 Defensive Player of the Year in 2012 and is expected to be a first- or second-round selection.
---
MAYOCK'S TOP 3-4 OUTSIDE LBs
Dion Jordan
6-6, 248 pounds, Oregon
Jordan's size and speed makes for a prototypical edge rusher, and some think he's best suited to play defensive end in the NFL... Jordan was a wide receiver as a freshman before switching to the defensive line, where he posted 12.5 sacks and 23.5 tackles for loss in his last two seasons... Jordan is slated to be a top 10 pick.
Jamie Collins
6-4, 250 pounds, Southern Miss
A defensive back turned defensive lineman, Collins posted 190 tackles, 39.5 tackles for loss and 16.5 sacks in two seasons playing on the D-line... Collins, who is projected to be a second- or third-round draft choice, could play defensive end or linebacker at the next level.
Barkevious Mingo
6-4, 241 pounds, LSU
After three seasons as an explosive edge rusher for the Tigers' dominant defense, Mingo is a projected first-round pick that could come off the board in the top 10... Mingo tallied 119 career tackles, 29 stops for loss and 15 sacks.
---
Alec Ogletree
6-3, 242 pounds, Georgia
Ogletree played safety as a freshman before moving to inside linebacker for his final two seasons at Georgia... His standout junior season included 111 tackles, 11.5 tackles for loss, three sacks and one interception... Ogletree's size and athletic ability has scouts intrigued, and he could be a late first-round selection.
Manti Te'o
6-1, 241 pounds, Notre Dame
The off-field issue is well-documented, and Te'o impressed with his relaxed, confident press conference at the scouting combine... His numbers speak for themselves – 49 career starts, 437 tackles, 34 stops for loss and seven interceptions (all seven career interceptions came in 2012)... Te'o took home seven national awards in 2012 and was a Heisman Trophy finalist... He is expected to be chosen in the first two rounds.
Kevin Minter
6-0, 246 pounds, LSU
Minter burst onto the scene in 2012 with a tremendous junior campaign... He posted 130 tackles, led the Tigers with 15 tackles for loss and added four sacks... The first-team All-SEC selection is projected to be a late-first or second round pick.
---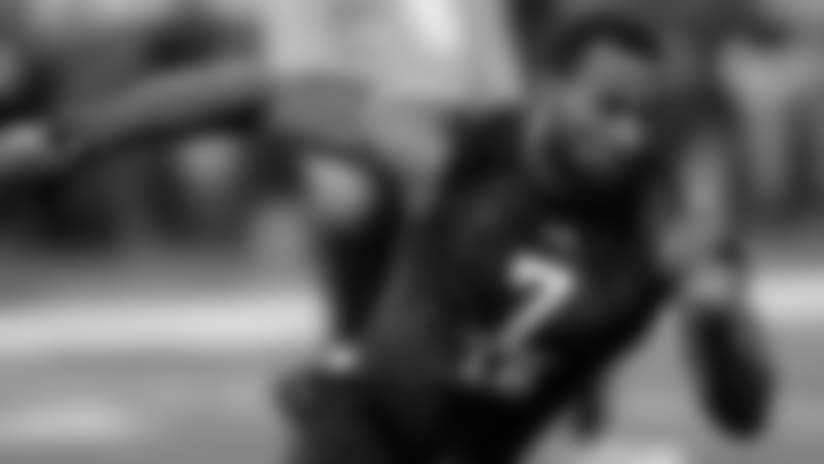 Zaviar Gooden
6-2, 234 pounds, Missouri
Gooden – a projected mid-round pick – blew away the linebacker competition with a 4.47 40-yard dash. Gooden also recorded the top time in the three-cone drill.
Cornelius Washington
6-4, 265 pounds, Georgia
Washington – another mid-round projection – was first place among linebackers with 36 bench reps, seven more than the second-place finisher.
Jamie Collins
6-4, 250 pounds, Southern Miss
Collins' 11-7 broad jump easily earned him the top spot, beating Gooden's second-place jump of 10-11.