The NFL Draft falls later on the calendar this year, but it's never too early to start breaking down the draft class.
Starting today, and continuing up until close to draft day on May 8, Panthers.com will take a position-by-position look at the draft with a helping hand from NFL Media draft analyst Mike Mayock. In addition to taking a look at Mayock's top five prospects at each position and mixing in a little local flavor, we'll also highlight intriguing individuals at each position.
Let's kick things off at offensive tackle, considered an area of need for the Panthers.
GREG ROBINSON
6-5, 332, Auburn
Much like the unspoken battle between Eric Fisher and Luke Joeckel last year, Robinson is competing with Jake Matthews to be the first tackle drafted. Both could easily go in top five. … Rapidly moved up board after dominant performance at NFL Scouting Combine. … Possesses all the traits desired in NFL left tackles.
JAKE MATTHEWS
6-6, 308, Texas A&M
Son of Hall of Fame tackle Bruce Matthews. … Like his father, appears destined to be a staple at left tackle. … Not the most athletic in the position group but a tactician with a relentless will to win. … Equally adept as a pass and run blocker.
TAYLOR LEWAN
6-7, 309, Michigan
Converted defensive lineman brings a bit of a mean streak to the left tackle spot. … Also brings some off-field concerns to the table, currently facing a trio of misdemeanor charges from a fight after the Ohio State game. … Viewed as a sure top-10 pick but status now more up in the air.
ZACK MARTIN
6-4, 308, Notre Dame
Strong, smart, but perhaps a touch undersized. … Could remain at tackle but could be considered for a move to guard by some teams. … Has enough strength and is technically sound enough to perhaps avoid a position change. … Good enough to be picked in middle of first round but could stay on board for a while.
JOEL BITONIO
6-4, 302, Nevada
Projections all over the place. While Mayock gives him a grade befitting of a first-round selection, some believe he might not be picked until the third, perhaps fourth round. … Might be better suited to play guard on the next level but was athletic and nimble enough to star at left tackle in college.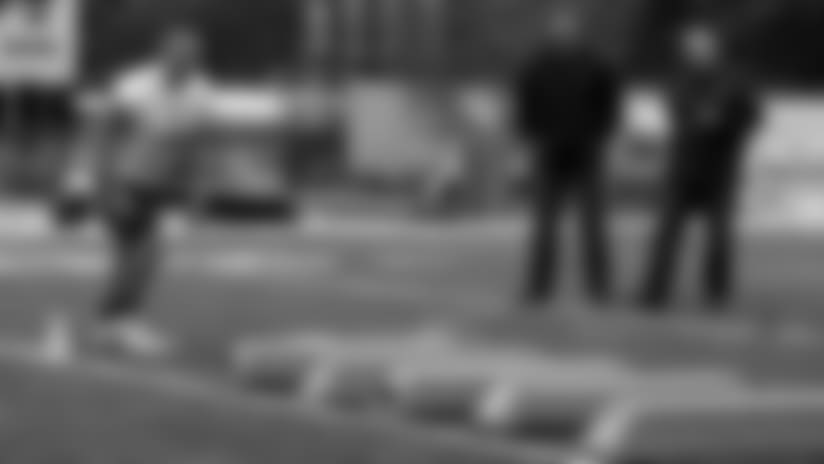 JAMES HURST
6-5, 296, North Carolina
Missed chance to make impression at NFL Scouting Combine after suffering broken leg in Belk Bowl at Bank of America Stadium. … Wasn't quite back to 100 percent at his recent pro day but showed the injury shouldn't be a concern going forward. … Made a school-record 49 starts, all at left tackle. … Considered a strong run blocker still developing as a pass blocker.
BRANDON THOMAS
6-3, 317, Clemson
Ranked sixth among all offensive linemen with 35 reps in the 225-pound bench press and 10th with a 40 time of 5.09. … Started at left tackle last two seasons but more likely to play guard in the NFL. … Could hear his name called as early as second round.