Bishop Sankey
5-10, 209, Washington
Turned pro with one season of college eligibility remaining after rushing for 1,870 yards and 20 touchdowns while catching 28 passes for 304 yards and a touchdown. … Broke former Huskie Corey Dillon's single-season rushing record. … Compared himself to Giovani Bernard, a former North Carolina back whose agility and vision served him well as a rookie with the Cincinnati Bengals.
Carlos Hyde
6-0, 230, Ohio State
Compiled 1,521 rushing yards and scored 18 total touchdowns as a senior. … Just missed on a 1,000-yard season as a junior but rushed for 16 touchdowns. … Rushed for 3,198 yards over his career. … A powerfully built runner who also possesses a surprising elusiveness given his size.
Jeremy Hill
6-1, 233, Louisiana State
Turned pro after rushing for 1,401 yards and 16 touchdowns as a redshirt sophomore. … Power back with sneaky speed. … Twice arrested during college career, sitting out his freshman year as a result of first arrest.
Tre Mason
5-9, 207, Auburn
Heisman Trophy finalist last season after breaking Bo Jackson's single-season school rushing record with 1,816 yards. … Also broke Cam Newton's school record for rushing touchdowns in a season with 23. … Rushed for 1,002 yards in 2012. … Known for his attacking style and quick feet.
Andre Williams
5-11, 230, Boston College
Heisman Trophy finalist last season after leading nation with 2,177 rushing yards. … A solid contributor for three seasons before his big breakout, totaling 1,462 yards heading into senior season. … A powerful, punishing runner that caught just 10 passes in college and none last season.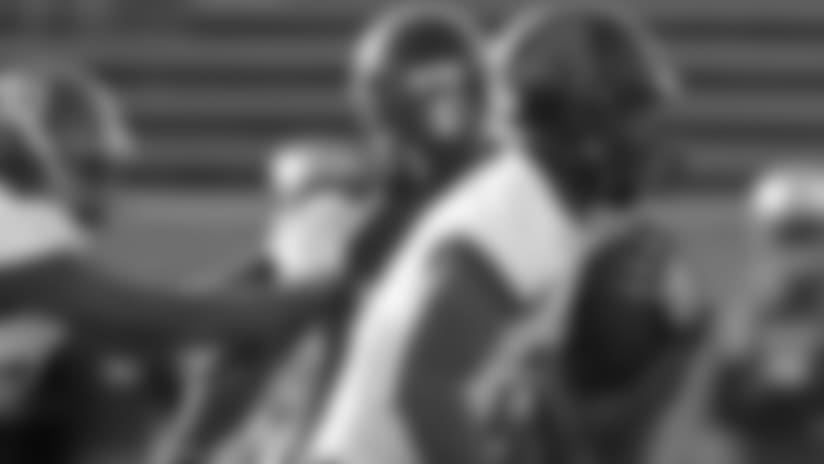 Lorenzo Taliaferro
6-0, 229, Coastal Carolina
Second-team All-American in Football Championship Subdivision set school records in 2013 with 1,729 rushing yards and 27 rushing touchdowns. … Leading rusher for South team at Senior Bowl. … Became third Chanticleer to play in Senior Bowl, a short list that includes Panthers cornerback Josh Norman. … Projected to be a late-round pick.
Jerick McKinnon
5-9, 209, Georgia Southern
Led all running backs at NFL Combine and tied for 10th with a quartet of linemen with 32 bench-press reps. … Ranked second among running backs with a 4.41 in the 40-yard dash and fourth in the 20-yard shuttle run with a 4.12. … Likely to be a third-day draft pick.