Melvin Gordon
6-1, 215, Wisconsin
Gordon produced one of the most impressive seasons in college football history in 2014. His 2,587 rushing yards are second only to Barry Sanders' 2,628 for single-season yardage total. Finished as the Heisman Trophy runner-up to Oregon quarterback Marcus Mariota. Career totals include 4,915 rushing yards, 49 total touchdowns and 7.8 yards per carry. An electrifying runner who can make defenders miss or power through them, he's projected to be a first-round pick.
Todd Gurley
6-1, 222, Georgia
Gurley is an immensely-skilled running back with a first-round grade. Despite suffering a torn anterior cruciate ligament in the first game back from a suspension last season, many believe Gurley is the best running back available. Finished three-year career with 3,285 rushing yards and 42 total touchdowns. The knee rehabilitation hurts his draft stock, but it will be hard for teams in need of a running back to pass on such an explosive talent.
Ameer Abdullah
5-9, 205, Nebraska
Abdullah came to Nebraska as a largely unheralded recruit and emerged as one of college football's most dynamic running backs. Posted consecutive 1,600-yard seasons and finished career with 4,588 rushing yards and 39 rushing touchdowns. A proven threat as a receiver out of the backfield, Abdullah recorded 73 catches for 690 yards and seven touchdowns. The elusive runner is projected to be a second-round selection.
Duke Johnson
5-9, 207, Miami (Fla.)
Despite suffering a season-ending ankle injury midway through his sophomore season, Johnson finished his career as the Hurricanes' all-time leading rusher with 3,519 yards. He rushed for 1,652 yards and 10 touchdowns and also posted 38 receptions for 421 yards and three touchdowns as a junior in 2014. A running back with exceptional burst who runs bigger than he is, Johnson should come off the board in round two.
Tevin Coleman
5-11, 206, Indiana
Coleman took the Big Ten by storm in 2014 as the Hoosiers' big-play machine. Set an Indiana single-season record with 2,036 rushing yards, and his 7.54 yards per carry average trailed only Gordon among backs with 250 attempts. Coleman's game-breaking ability will likely make him a second-round choice.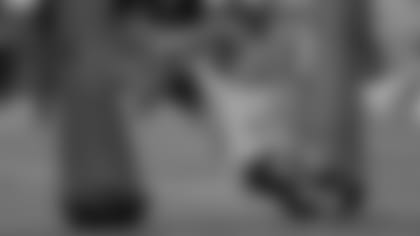 Jeremy Langford
6-0, 208, Michigan State
Langford's 4.42 40-yard dash was the fastest among running backs at the Scouting Combine. An underrated back who recorded 2,944 rushing yards in his final two seasons, Langford is projected to be a third-round pick.
Mike Davis
5-9, 217, South Carolina
Davis, who battled through injuries in 2014, doesn't boast the top level production of the other running backs listed, but he's a powerful runner with surprising speed. The Gamecock will likely be drafted in the middle rounds.