In 2008, Jonathan Stewart and DeAngelo Williams were "Double Trouble," as their nickname proclaimed.  Each had more than 800 yards and 10 touchdowns, a feat unmatched in at least the last 50 seasons. (PHOTOS: ANDREW MASON / PANTHERS.COM)
---
RUNNING BACKS FROM AROUND THE NATION:
Led the Football Bowl Subdivision with 2,083 yards last year … All-American and Big East Offensive Player of the Year … Scored 35 total touchdowns in three seasons at UConn, including 18 last year … Finished his college career with 3,800 rushing yards and another 276 yards on 48 receptions … Had the fifth-best 40-yard dash time among running backs at the Combine (4.51 seconds) and led the position with a 41.5-inch vertical jump … He also had the third-best broad jump (10 feet, five inches) and the fourth-best time in the short shuttle (4.10 seconds) among running backs.
Led the Big Ten and was second in the nation with 1,850 yards on the ground last season … Ran for at least 100 yards in every game last season and notched a pair of 200-yard efforts (217 yards against Wisconsin; 211 yards against Purdue) … Averaged at least six yards per carry in seven of 13 games last season … Scored at least once in all but one game last year, and closed the season with four consecutive multi-touchdown games … Iowa was unbeaten when he scored at least twice, including a 24-23 win over previously undefeated Penn State in the 10th game of the season … Had 14 touchdowns in his last six games, an average of 2.3 per game … Won the Doak Walker Award … Turned pro with a year of eligibility remaining … Clocked at 4.65 seconds for the 40-yard dash at the Scouting Combine
Established his place in pop culture by proposing to his then-girlfriend after scoring the game-winning two-point conversion at the 2007 Fiesta Bowl, but established his place in Boise State annals by scoring a school-record 59 touchdowns, including a career-best 25 as a sophomore in 2006 … Set his career high for rushing that year (1,714 yards) …Averaged at least 5.0 yards per carry in each of his seasons at Boise State … Caught 47 passes for 541 yards in his final two seasons with the Broncos after grabbing 13 passes for 101 yards in his first two years … Clocked the second-best 40-yard dash time among Combine running backs, covering the distance in 4.46 seconds … Also had the third-best bench-press tally among tailbacks (26 repetitions); it was also fifth-best among the entire group, which included fullbacks.
Followed a 1,328-yard season in 2007 – in which he ran behind 2008 Carolina first-round pick Jeff Otah -- with a 1,488-yard campaign a year later, punctuated by a run of five consecutive games with at least 140 yards at midseason … Scored 21 touchdowns last season and notched six multi-touchdown games, including a career-best four against Rutgers … Had 13 100-yard games out of the 25 he played at Pitt.
Second-team All-America and first-team All-Southeastern Conference selection last year … Ran for 2,734 yards, caught 53 passes for 645 yards and scored 32 touchdowns in his two seasons (26 games) with the Bulldogs … Averaged 130.0 yards from scrimmage per game … Clocked at 4.62 seconds for the 40-yard dash at the Combine … Logged 25 bench-press repetitions, better than all but three tailbacks in Indianapolis … Had the second-best time among running backs in the three-cone drill (6.84 seconds).
Ran for 1,749 yards and 15 touchdowns during his four years at Virginia … Had career highs in rushing yardage (774) and receiving yardage (193 on 44 receptions) as a senior … Posted three 100-yard games last season … Averaged 5.2 and 5.1 yards per carry, respectively, in junior and senior seasons … Had the best 40-yard dash time (4.45 seconds) and the second-best bench-press tally (27 repetitions) among runners at the Combine.
Turned pro with one year of eligibility remaining after rushing for 3,382 yards, the fourth-best total in Ohio State annals … Ran for at least 100 yards in 17 of the 23 games in which he played the last two seasons, posting a pair of 200-yard games in the process … His 222 yards against Michigan in 2007 were a series single-game record … Clocked at 4.59 seconds for the 40-yard dash at the Scouting Combine.
Khalil Bell, UCLA
Curtis Brinkley, Syracuse
Aaron Brown, TCU
Glen Coffee, Alabama
James Davis, Clemson
Herb Donaldson, Western Illinois
Tyrell Fenroy, Louisiana Lafayette
Arian Foster, Tennessee
Cody Glenn, Nebraska
Mike Goodson, Texas A&M
P.J. Hill, Wisconsin
Rashad Jennings, Liberty
Gartrell Johnson, Colorado State
Jeremiah Johnson, Oregon
Anthony Kimble, Stanford
Marlon Lucky, Nebraska
Devin Moore, Wyoming
Chris Ogbonnaya, Texas
Branden Ore, West Liberty State
Javon Ringer, Michigan State
Bernard Scott, Abilene Christian
Kory Sheets, Purdue
Antone Smith, Florida State
Tyrell Sutton, Northwestern
Javarris Williams, Tennessee State
---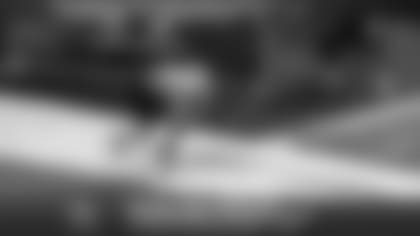 ](http://www.panthers.com/media-vault/videos/rbs-at-the-combine/474c766c-a764-4b76-83ec-aac9a4bad64e)
Click above to watch video of the running backs at the Scouting Combine.
---
RUNNING BACKS FROM THE CAROLINAS:
Ran for 2,539 yards for the Wolfpack, the seventh-best total in school history … Amassed 1,076 yards from scrimmage as a senior, picking up 767 yards on the ground and 309 yards on 29 receptions … Scored nine touchdowns last season – seven rushing and two receiving …His 4.49-second time for the 40-yard dash was the fourth-best among running backs at the Scouting Combine …Had the fifth-best vertical jump (37 inches) among players at his position at the Combine … Earned Most Outstanding Player honors for the South Team at the Senior Bowl after gaining 72 yards from scrimmage (10 carries for 31 yards and two receptions for 41 yards) and a touchdown …  Was a Parade All-America after his senior year (2003) at Rose High School in Greenville, N.C.; he set a North Carolina record with 3,479 rushing yards that season while leading Rose to the 4A title.
Posted a pair of 1,000-yard seasons at Clemson, picking up 1,187 yards in 2006 and 1,064 in 2007 ... Averaged at least five yards per carry in three of his four seasons, finishing with a career 5.2-yard average ... Scored 49 total touchdowns in four seasons, with at least nine in each year   ... Career highs in rushing yardage (1,187) and touchdowns (17) came in his sophomore season ... Clocked at 4.60 seconds for the 40-yard dash at the Combine.
---
No offensive area has been more frequently targeted by the Panthers in the first round than running back, with three selections -- including two in the top 15 -- among the Panthers' all-time first rounders. 
In DeAngelo Williams and Jonathan Stewart, the Panthers have two of the 11 first-round runners selected in the previous three drafts.  Both proved worthy of the distinction last year, ending the year as the league's most productive running-back duo while becoming the first pair of runners since at least 1960 to amass at least 10 touchdowns and 800 yards apiece.
**

CAROLINA PANTHERS ALL-TIME DRAFTEES: RUNNING BACK

**
YEAR
ROUND
PICK NO.
PLAYER
COLLEGE
1996
1
8
Tshimanga Biakabutuka
Michigan
1996
3
73
Winslow Oliver
New Mexico
1996
5
142
Marquette Smith
Central Florida
2000
6
175
Dee Brown
Syracuse
2002
2
34
DeShaun Foster
UCLA
2005
2
54
Eric Shelton
Louisville
2006
1
27
DeAngelo Williams
Memphis
2008
1
13
Jonathan Stewart
Oregon