MAYOCK'S TOP RUNNING BACKS
Eddie Lacy
5-11, 231 pounds, Alabama
After backing up future top-five pick Trent Richardson in 2011, Lacy emerged as the workhorse running back for the Crimson Tide in 2012, running for 1,322 yards and 17 touchdowns… Bruising back averaged 6.8 yards per carry over his three-year college career and finished with 32 touchdowns… Lacy is expected to be a late-first or early-second round selection.
Montee Ball
5-11, 214 pounds, Wisconsin
Ball finished his college career as the NCAA touchdown king, becoming the NCAA record holder with 83 scores… Despite sharing the load with two other backs, Ball ran for 996 yards and 18 scores in 2010. Then, as the lead-back from 2011-12, Ball ran for 3,753 yards and scored 61 times, earning back-to-back All-America honors… His 2011 season (1,923 yards and 39 touchdowns) made him a Heisman Trophy finalist and he won the Doak Walker award given to the nation's top running back as a senior in 2012… Ball is projected to come off the board in the second or third round.
Andre Ellington
5-10, 199 pounds, Clemson
Ellington produced consecutive 1,000-yard seasons in 2011 and 2012 as the leader of the Tigers rushing attack… Finished his career with 3,436 rushing yards and 35 touchdowns… Ellington is projected to be a mid-round selection.
Giovani Bernard
5-9, 202 pounds, North Carolina
After missing his freshman season with a torn anterior cruciate ligament, Bernard returned and starred for two seasons… Totaled 2,481 career rushing yards and 25 touchdowns and finished second in the NCAA in punt return average in 2012 (16.4 yards)… Also proved to be a viable receiving option, recording 92 career catches for 852 yards and six touchdowns… Bernard is projected to come off the board in the second or third round.
Marcus Lattimore
5-11, 221 pounds, South Carolina
Lattimore began the 2012 season as a Heisman hopeful and one of the nation's brightest stars before a devastating right knee injury ended his junior season… Finished his career with 2,677 rushing yards and 38 touchdowns… Also caught 74 passes for 767 yards… Despite his injury, most expect Lattimore to be drafted somewhere in the middle rounds.
---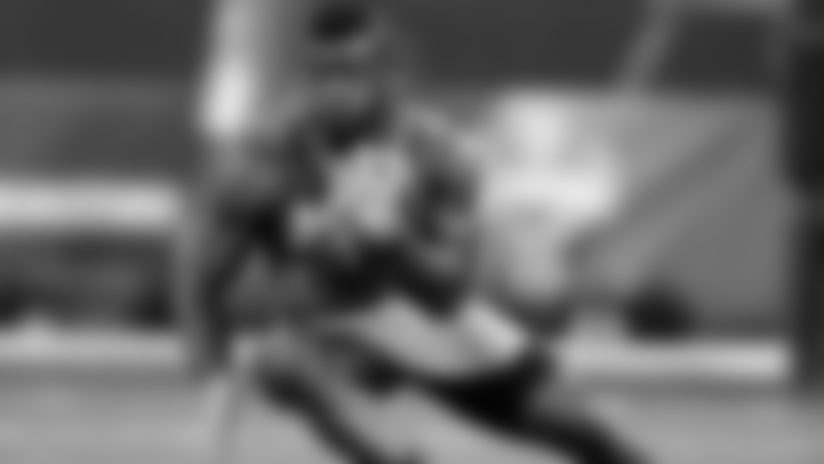 Christine Michael
5-10, 220 pounds, Texas A&M
Michael - who is projected to be drafted in the middle rounds - topped everyone at the combine with a 43-inch vertical. He also led the running backs with a 6.69 in the three cone drill and a 4.02 20-yd shuttle.
Onterio McCalebb
5-10, 168 pounds, Auburn
McCalebb - a late round projection - caught everyone's attention at the combine with a blazing 4.34 40-yard dash.
Knile Davis
6-0, 227 pounds, Arkansas
Davis - another late-round projection - wasn't far behind McCalebb in the 40-yard dash, posting an impressive 4.37. He was also first among running backs with 31 bench reps.