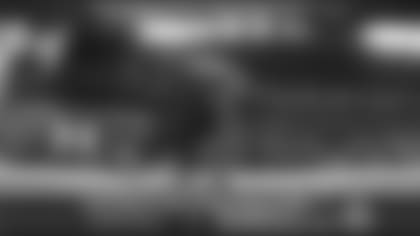 ](http://www.panthers.com/media-vault/videos/wrs-at-the-combine/f8d14934-18de-46cc-9616-c6567d8e2c2b)
Click here or on the above image to watch NFL Network's report card on wide receivers at the National Scouting Combine in February.
---
Over the last 10 seasons, the Panthers have enjoyed nine 1,000-yard seasons from wide receivers.  All but one came from wideouts the Panthers drafted; the sole exception was Patrick Jeffers, who snatched 63 receptions for 1,082 yards in 1999.
In the last two seasons, Carolina's wide receivers have combined for 335 receptions.  All but 15 of them – 95.5 percent – were from receivers that the team drafted.  Its three leading returning receivers this year were Day 1 draft picks -- Muhsin Muhammad (second round, 1996), Steve Smith (third round, 2001) and Dwayne Jarrett (second round, 2007).
The Panthers have only selected receivers in seven of their 14 drafts, but four of those seven saw them select multiple wideouts -- 1996, 1998, 2004 and 2007.
**

CAROLINA PANTHERS ALL-TIME DRAFTEES: WIDE RECEIVER

**
YEAR
ROUND
PICK NO.
PLAYER
COLLEGE
1996
2
43
Muhsin Muhammad
Michigan State
1996
7
217
Donnell Baker
Southern
1997
1
27
Rae Carruth
Colorado
1998
4
106
Donald Hayes
Wisconsin
1998
7
228
Jim Turner
Syracuse
2001
3
74
Steve Smith
Utah
2003
7
226
Walter Young
Illinois
2004
2
62
Keary Colbert
USC
2004
5
163
Drew Carter
Ohio State
2007
2
45
Dwayne Jarrett
USC
2007
4
118
Ryne Robinson
Miami (Ohio)