INDIANAPOLIS – General manager Dave Gettleman feels that the draft class at running back runs deep, but only after completing the evaluation process will he talk to his staff about how each individual prospect fits with what the Panthers want to do.
It's pretty safe to say that the three backs most observers view as potential first-round picks all have abilities that could help in Carolina.
"You're looking for vision, feet, hands, blitz pickup," Gettleman said. "I've said this before, one of the toughest things for these running backs coming in is the blitz pickup stuff. It keeps a lot of them off the field.
"It's all those factors, and you want to be able to catch the ball as well."
The running back group kicked off four days of media interviews Thursday at the NFL Scouting Combine. To no one's surprise, Leonard Fournette, Dalvin Cook and Christian McCaffrey drew the biggest hoards.
FOURNETTE: Some believe the LSU product could be gone by the time the Panthers pick at No. 8 overall, and Fournette doesn't lack in confidence but recognizes that the running back class doesn't begin and end with him.
"There are a lot of great running backs here, and it's not my decision. But I know my talent and know how I work, and it's going to pay off," Fournette said. "With this running back group, I believe a lot of these players are going to succeed in the NFL and are going to contribute as soon as they get there."
Fournette is certainly built for the pro game – a power back with impressive speed for his size who is confident he can contribute in the passing game as well. He weighed in at 240 pounds (he said five pounds were water weight) but said he expects to run under 4.5 in the 40-yard dash when on-field workouts begin Friday at Lucas Oil Stadium.
"I've gotten stronger and faster, so we'll see," said Fournette, who added that the ankle injury that sidelined him for LSU's bowl game is a thing of the past. "A lot of people think I'm just strong. Some people say I lack speed, lack a burst. Tomorrow will show it all."
COOK: Running backs have taken a back seat on draft day in recent seasons, but Ezekiel Elliott went No. 4 overall to the Cowboys last season and reminded people how much impact an elite running back can have.
Cook, a versatile back from Florida State, thinks he should be considered in that category and could be a top-10 pick as well.
"It goes to show that if a running back gets put in the right system, put in the right place, he can do a great amount of things for a team," Cook said. "If I get put in the right system, I feel like I can do the same things Zeke did."
Cook averaged an astounding 6.7 yards per carry while toting it 517 times over the last two seasons. He was a force in the passing game as well and gained invaluable experience in pass protection. It wouldn't be shocking for both he and Fournette to be available at No. 8, but it also wouldn't be shocking if Cook went first.
"It's all on how I perform and how it gets me to jump the draft board," Cook said. "The combine is here – the week I've been waiting for – so it's all on me now. I've just got to go and do my part."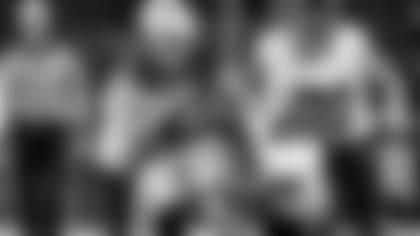 MCCAFFREY: Some think the Stanford standout could still be on the board when the Panthers pick in the second round. That attitude doesn't surprise McCaffrey, but it sounds like he doesn't think that should happen under any circumstances.
"I play with a chip on my shoulder always. I feel like a lot of people don't give me credit for my skills and talents," he said. "That's just the way it is, though. It's not like a feel like I'm crazy disrespected, but I have a chip on my shoulder at all times. I'm constantly trying to prove myself."
McCaffrey proved to be arguably the most multi-talented back in the country the past two seasons, with his rushing, receiving and return ability allowing him to lead the nation in all-purpose yards in both 2015 and 2016.
"I pride myself on being extremely versatile," he said. "I want to show everything I can do.
"I love the game of football more than anything in the world."