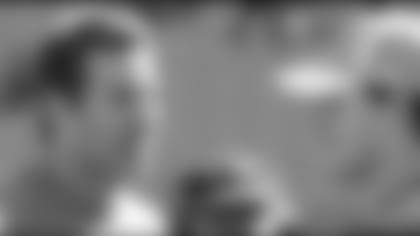 Kurt Warner and Jake Delhomme shared smiles and memories prior to their teams' Week 8 game at Bank of America Stadium. (PHOTO: ANDREW MASON / PANTHERS.COM)*
CHARLOTTE -- Eleven years ago, a future Pro Bowl and Super Bowl quarterback couldn't even earn a starting spot with the Amsterdam Admirials of NFL Europe.
In those days, failing to earn a starting job in the now-defunct developmental circuit could be considered a death knell for a career.  After all, if you can't start in the minor league, how could you do so in the big time?
But in retrospect, there was no shame for Jake Delhomme to fall short in a 1998 scrum for playing time with someone who would become a two-time NFL Most Valuable Player, Super Bowl XXXIV MVP and four-time Pro Bowler -- current Arizona Cardinals quarterback Kurt Warner.
Back then, Warner thought his competition was daunting.
"Jake had the stronger arm; he moved better; (he) could make the big throws and big plays a lot better than I could," Warner said. "All I was hoping, no offense to Jake, was that he would make a few more mistakes than me so that the coaches would give me a chance. If you just looked at it in black and white, you'd probably take a guy like Jake."
Their duel was congenial; the two were the only quarterbacks in Admirals camp and they bonded quickly, sharing a modest professional background -- neither were drafted -- and a belief that each could become NFL Europe's next distinguished alumus.
But in the spring of 1998, losing the derby to the erstwhile Arena Football League quarterback left Delhomme mad.
"Well, I should have been," Delhomme said. "Kurt had the upper hand going into camp ... I knew that.  I found that out after the fact.  But he made the most of it and he was outstanding.
"I hadn't heard of him.  I knew he was an Arena League quarterback; that's all I knew.  But you could tell after the first practice, he was very accurate.  He was a very heady quarterback."
Delhomme wouldn't flourish until he was allocated to the Frankfurt Galaxy the following spring.  His work with the Admirals in 1998 was scant and humbling, with most of his action coming against the same Galaxy side that he would lead a year later.
"It wasn't a good day," Delhomme recalled.
His statistical line from that season -- which included no touchdowns against four interceptions -- offered no indication of the glory to come.   But Warner -- who finished 1998 as NFL Europe's leader in aerial yardage (2,101) and touchdown passes (15) while throwing just six interceptions -- saw something in the training-camp foe who had become his close friend over the 10 weeks they spent as teammates in Amsterdam.
"What I did see was an amazing competitor," Warner said. "Not a lot of times at this position do you see a guy that just competes and a guy that wants to be great and is a great leader.
"I remember thinking to myself that this guy definitely has a chance. He definitely has a chance to make a move going forward because of those attributes that he had. Did I know that he was going to get an opportunity or how it was going to develop? No, I didn't know that. But there were definitely signs of things there that stood out and made you say, 'If someone gives him the opportunity, I can really see him doing well at the NFL level.'"
Delhomme saw similar potential in Warner, but for different reasons.
"It was only 10 games that we played together, but just watching his demeanor, it didn't faze him," Delhomme said. "Not too many things faze him.  That's what I've always taken from him.  He threw an interception one time (in Amsterdam), and it wasn't his fault.  (Usually) quarterbacks will get gun-shy and not try it again.  But the next time we dialed it up, he did the same thing, threw it and completed it.  I think you learn from watching guys like that."
What Warner learned from his time in Amsterdam was how to take the whip-quick release that he developed in Arena Football's claustrophobic environment and apply it to the larger field.  By the time the St. Louis Rams tapped him to fill in for an injured Trent Green in August 1999, Warner had been immersed in the full-field, 11-on-11 version of football for nearly two full years and was ready to flourish -- which he did in a 41-touchdown, Super Bowl-winning, MVP season that forever stamped him an NFL success.
Delhomme's rise was much more deliberate, first requiring a strong, title-winning season in Frankfurt in 1999, followed by a series of stops and starts in the season that followed with the New Orleans Saints before he received the starting call on Dec. 24, 1999.
Two touchdown passes and a scoring run later, Delhomme had made his first NFL start a winner, ending a five-game Saints skid with a 31-24 win over the playoff-bound Dallas Cowboys.  Delhomme was giddy -- and Warner was watching.
By this time, Warner was a national sensation.  The Rams had sealed home-field advantage in the NFC playoffs, and Warner owned a good chunk of middle America's heart, with his storybook season helping deliver the first home playoff game to St. Louis in its 33 seasons as an NFL city.
Still glowing from the win, Delhomme returned to his New Orleans-area apartment to relax.  But he had a message waiting for him.
"The the first message I had on my machine in my apartment after the game was from Kurt Warner," Delhomme said. "That's him.  That's how he is."
Nine years and a week later, it was Delhomme who reached out to Warner, sending him a text message to congratulate him on his team's 30-24 wild-card win last week.
These messages are signs of a friendship, forged in heated competition, fueled by shared ascensions through the elite level of their sport, now facing a moment that might seem pre-destined -- the moment where they duel when success matters most.