Whether wearing a football uniform or a police officer, Dwight Stone has always been a team player. The former special teams ace played 14 years and was a part of the Panthers' first four seasons. After retiring in 2000, Stone embarked on a 13-year career as a Charlotte-Mecklenburg police officer. He recently retired from the CMPD and now works as a volunteer with youth ministry at First Baptist Church of Weddington, N.C., and at the Crisis Pregnancy Center in Monroe. Why did you want to become a police officer?
"It was something I always wanted to do. I always wanted to go into law enforcement or the military before I even considered football. It just happened that a country boy from Florala, Alabama, was able to move and accomplish things that God knows I never thought I would see in my life.
"Being a police officer was something I wanted to do to give back to my community. Because my first coach ever, in any sport I played, was a police officer. I'll never forget that." When you see some of the stuff that has been going on locally and nationally in regards to communities and police departments, what are your thoughts?
"My thing is, this black-and-white issue, it drives me up a wall. All lives matter, no matter who you are. My brothers and sisters in the blue that I wore – and I worked with every nationality – were people you could count on. They were my family. They were important to me every day, because they had my back and they knew I had their back. We knew that, and it wasn't a color thing.
"And it was kind of funny because the same atmosphere that I experienced in the football locker room, you had that in the police department, too, when you started getting to know the people. They're just as crazy as you are, and they're just as much human as you are."
Where were you assigned most of the time when you were an officer?
"I was mostly in the school system, which I loved and enjoyed because that's where you can get ahold of the kids. I was a school resource officer in elementary, middle school and high school at times. That way I got to know the kids, and they got to know me. I used to tell them, 'Don't look at the badge. Look at me as a person, because I'm looking at you as a person.'
"And today, even though I'm retired, I walk around and run into guys who will recognize me and say something to me. It's so nice to see things like that, to see these young people grow up to be nice, respectful citizens."
You played on the very first Panthers team in 1995 and also on the '96 team that won its division and advanced to the NFC Championship. Were you surprised how fast that group came together?
"It was weird because I think all the older guys had been through the ego thing and you didn't care about whatever your role was. You were willing to do it. You were happy for the opportunity Mr. (Jerry) Richardson and Coach (Dom) Capers had put together for you, along with the front office.
"It wasn't a pride thing. We were too old to worry about that."
Like many players, you had a special relationship with team owner Jerry Richardson when you played here, didn't you?
"Mr. Richardson, as a former player, what he has done for the team and all the players through the years, it's great. One thing about Mr. Richardson is, as a former player, you can't get one over on him. He can tell whether you're trying to BS him or not."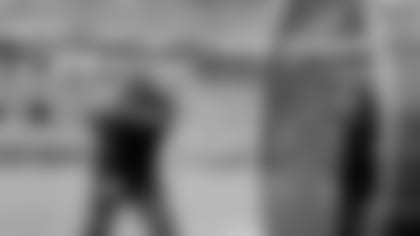 What do you remember most about that 1996 season?
"Pastor (Billy) Graham coming to the stadium, and bringing people from all walks of life to a place called Charlotte, North Carolina. It was considered a melting pot. And for him to come out there and pack the stadium the way he did, I think everybody got closer to God.
"Sometimes you're looking for something. I think it made our bond closer as a team, too, because that was the year we didn't lose a game in that stadium. I think after that, everybody was trying to get Pastor Graham to bless their stadium, you know?"
Former Pittsburgh Steelers coach and Hall of Famer Chuck Noll once said you were the fastest football player in the 40-yard dash he ever coached. In your prime, could you have beaten current Panther and noted speedster Ted Ginn, Jr. in a 40-yard race?
"I'm not a bragger, but yes, I could take him. I'm not a cocky guy and I know some of the guys around now are fast. But there is fast and then there is speed, you know?
"I love Ted Ginn, Jr. I love his game. When he hits it, he hits it. But yes, I could have beaten him back in the day. Just don't tell him I said that."
It's said that the fastest you ran the 40 in was 4.25 seconds. Is that right?
"The fastest I ever ran it in was 4.16. But it was hand-timed, so some people say you have to tack a little onto that. It doesn't bother me."
How did you look at your role as probably one of the better special-teams players in NFL history?
"I loved it. You know how in the movies some stars make a cameo appearance. That's the way I used to look at it. The offense and the defense, that was the main cast. I would steal a cameo. When the special teams came up, I would go out and do my thing – and then I'd go back to the sidelines.
"It was always exciting to be a special teams player. Because you go full speed. You know those old gladiators who would do that jousting at full speed? That's what it was like. It's been a blessing. You work hard on something, people notice it, and it pays off."