PHILADELPHIA – Panthers head coach Ron Rivera and defensive coordinator Sean McDermott enjoyed some good times in Philadelphia, but few moments were as enjoyable as the ones they experienced in the visiting locker room at Lincoln Financial Field on Monday night/Tuesday morning.
"I feel great for Coach Rivera and Coach McDermott as well," left tackle Jordan Gross said following Carolina's 30-22 triumph over the Eagles. "I know they wanted this win. They didn't really speak about it all week, but I know it meant a lot to them. You could tell."
Rivera and McDermott both began ascending the pro coaching ranks with the Eagles in 1999. Rivera took over as linebackers coach after starting his coaching career as defensive quality control coach in Chicago, while McDermott became assistant to the head coach that same year after serving a season as scouting administrative coordinator.
Rivera remained in Philadelphia for five seasons before returning to the Bears as defensive coordinator. McDermott stayed in Philadelphia through the 2010 season – the last two seasons as defensive coordinator – before taking the same position in Carolina with Rivera.
Following the game, Rivera presented McDermott with the game ball.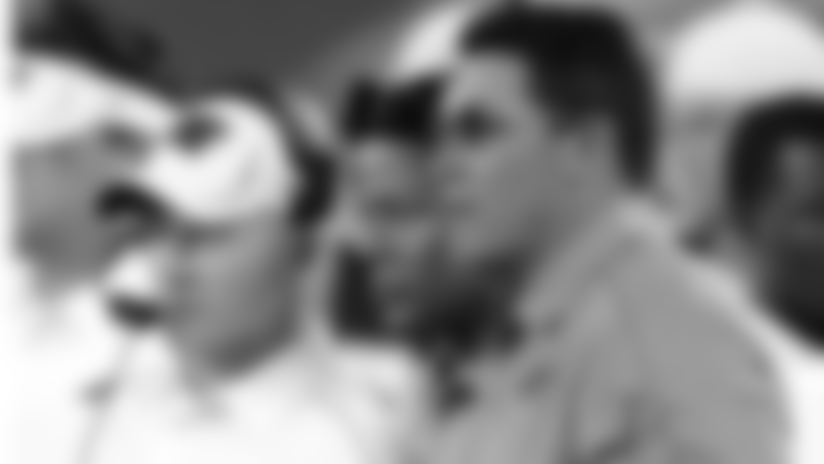 "After having some success, having to move on is always a tough thing," Rivera said. "I know it was very personal for Sean because he is from Philadelphia, so getting a chance to beat them – I knew it would mean a lot to him, and I know the game ball will mean a lot to him."
Rivera said it was gratifying to win in a "great city with very passionate fans." The venue undoubtedly made it all the more special, especially after seeing winnable games in Chicago slip through his fingers in each of the last two seasons.
The reality, though, is that Rivera and the Panthers will take a win anywhere and any way they can get it.
"Winning is huge," Rivera said. "A lot of people say it cures all."
A lot has been made of Rivera's 1-11 record to date in games decided by a touchdown or less. But it also should be noted that in games decided by eight points – one-possession games as well – Rivera is now 4-1.
All three victories this season have been by eight points.
The Panthers were on the verge of winning yet another eight-point decision last Sunday, but Tampa Bay ruined it with a last-second touchdown drive and two-point conversion before winning in overtime.
Monday, the Panthers were poised to avoid even the possibility of such a heartbreaker when a touchdown with 4:40 left to play put them up by eight points pending the extra point. Then shockingly, new kicker Graham Gano missed the PAT wide right.
"I was ready to throw up," Rivera admitted.
The sick feeling quickly passed, however, when safety Sherrod Martin forced a fumble on the ensuing kickoff and tight end Gary Barnidge pounced on it. Then the offense, which came up a yard short of sealing the Tampa Bay game last weekend, picked up three first downs to run out the clock.
"It's been a long time coming," Rivera said. "Offensively, we did the things we needed to do the last few minutes; it was a good four-minute drill for us.
"A lot of people contributed and made plays for us tonight, and at the end we had an opportunity and took advantage of it. I'm real proud of the things that we did to give ourselves a chance to win."