DETROIT – Ed Dickson had earned the right to relish his five-catch, 175-yard performance against the Lions.
Since coming to Carolina in 2014, he's been the reliable, low-maintenance backup to Pro Bowl tight end Greg Olsen, doing a lot of the dirty work without many opportunities to catch passes.
Put it this way: Dickson had more yards in one game than he had in each of the last three 16-game seasons.
On Sunday, he became the first player in franchise history to record two receptions of 50-plus yards in the same game – an eye-popping 64-yard catch and run in the first quarter and a 57-yard scamper off a perfectly executed play-fake on third-and-1 in the second quarter.
But when given a chance to talk about his big day individually, Dickson wouldn't bite. Should have seen that coming.
"The thing that makes it gratifying for me is the victory. It's a team sport for a reason," Dickson said. "I could stand here and say I had a great game and everything like that. But if we would have lost this game I'd be here with a sad look on my face."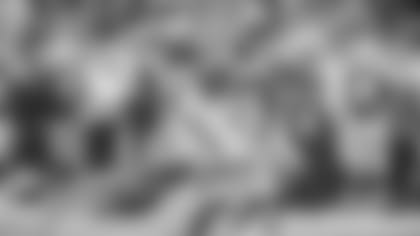 Dickson was beaming after the 27-24 victory over the Lions on Sunday, and rightfully so.
One by one, teammates and coaches came by to congratulate him on a job well done. The person happiest for Dickson was quite possibly Olsen, who watched the game from Charlotte as he continues to recover from foot surgery.
Olsen jokingly tweeted that Dickson had a "decent" game. When told of the tweet, Dickson broke into laughter.
"It was alright," he said with a smile. "I'm pretty sure I've got a text waiting from him. I know he's proud of me. I'm just holding it down for him. We need him."
Dickson finished just seven yards away from setting a team record for receiving yards by a tight end in a single game. Olsen holds the record with 181 yards against the Buccaneers in 2016.
So how did this 175-yard outburst happen?
"Well, in light of what happened last week and with the way both Kelvin (Benjamin) and Devin (Funchess) have played in the last couple of weeks, I think that's gotten everybody's attention," head coach Ron Rivera said. "And so the tendency now is to free up somebody. Ed showed that he's a more than capable player in this league. Did a really nice job, ran good routes and Cam (Newton) found him."
For weeks, Rivera has insisted that Dickson is "more than capable" of filling the void created by Olsen's injury.
Everyone saw it for themselves on Sunday.