CHARLOTTE – When training camp ended a month ago, it signaled the opportunity for Panthers players to return home.
For defensive tackle Dwan Edwards, this weekend marks his chance to return home.
Less than a week before training camp began, Edwards' wife gave birth to the couple's fourth child, Kai. The family was able to visit Edwards in Charlotte about a week after training camp concluded, but they actually live about five minutes from Ralph Wilson Stadium, where the Panthers will face the Buffalo Bills on Sunday.
"It will be weird to not be able to stay in my house, but I'm glad to be going back there and seeing my family," said Edwards, who will stay in the team hotel on the eve of the Panthers' matchup against his former team. "It's one of the toughest things I've had to deal with in the NFL, being away from them.
"We definitely want to go up there and get a win – we need that – and I want to go out there and play well. Obviously, I want to go back and have a good game."
After spending his first six NFL seasons with the Baltimore Ravens, Edwards signed with the Bills prior to the 2010 season and quickly came to call the Buffalo area his home. But with a glut of talent on the roster at defensive tackle in 2012, the Bills released Edwards in the final roster cutdown.
"Finding Dwan was huge for us. He's really been a Godsend for us," head coach Ron Rivera said. "And now we've also upgraded with some young guys for the future. That's pretty exciting."
Edwards rented a house in Charlotte for his family last season but decided in the offseason that with two school-age children and a third about to start school, Buffalo made more sense this year. He's renting a townhouse in Charlotte formerly occupied by former Panthers and Bills guard Geoff Hangartner and seeing the family when he can.
"I signed a four-year deal up there, so I assumed I was going to be there a little longer than two years," Edwards said. "We had a house in Baltimore that we sold, and we really like upstate New York. People are nice, and the kids love their school. They also love to snowboard. It's a great place for me and my family."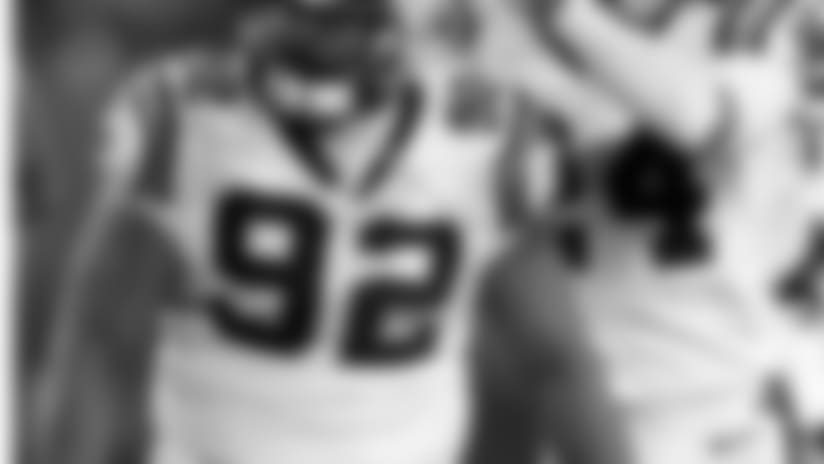 On the football field, Edwards is feeling more and more at home with the Panthers. He had two sacks in his Carolina debut last year just a week after signing with the team, and went on to record four more sacks to establish a career high with six.
This offseason, Edwards had more time to get acclimated and now has more talent around him with the addition of first-round draft choice Star Lotulelei, second-rounder Kawann Short and veteran free agent signee Colin Cole.
"Looking back to last year, it was a pretty young defensive line without a lot of experience, but I guess I was a good fit," Edwards said. "I got in here and helped some of these guys have their best years, too, and working together we definitely raised expectations for our level of play.
"Now adding Star and Kawann to the group has taken it to a whole other level. A lot deeper, stronger, and a lot more talent."
Edwards, who returned to practice Thursday after resting a hamstring injury Wednesday, knows the challenge that awaits against an Bills offense featuring the potent running back duo of C.J. Spiller and Fred Jackson.
"They've got two great running backs," Edwards said. "We'll definitely have our hands full."
With four children, Edwards knows what it's like to have his hands full. On his return home, he plans to be a handful for his former team.
"I can be a lot better than last year, when I didn't have an offseason with these guys," he said. "We've had time to get a lot of work done together, so I definitely think we'll be a lot better than last year."