CHARLOTTE – Efe Obada has always been athletically gifted.
Only recently did take advantage of it.
"I wasn't really into sports," said Obada, a 25-year-old who has gone from dormant athletic specimen to NFL defensive end in three short years. Obada, who was introduced to football in England in 2014, will spend the entire 2017 season on the Panthers' practice squad as a part of the fledgling International Player Pathway Program.
"I did nothing athletically. What you guys call soccer? I never played that either," Obada continued. "A friend who was playing American football thought it was something I could do because of my size. I tried it, and I liked it.
"It's challenging, but thank God I have the abilities that I have. I'm fast. I'm strong. I'm big. I'm smart. And I'm determined and hungry, so I feel like it doesn't matter how old I am."
Obada, a 6-foot-6, 255-pounder who looks the part, got his start with the London Warriors of the British American Football Association National Leagues – the primary option for football in England, Scotland and Wales. He got his first big break when Aden Durde, who was defensive coordinator for the Warriors, mentioned Obada while serving as a coaching intern with the Cowboys. Obada spent part of the 2015 season on Dallas' practice squad and parts of last offseason with the Chiefs and Falcons.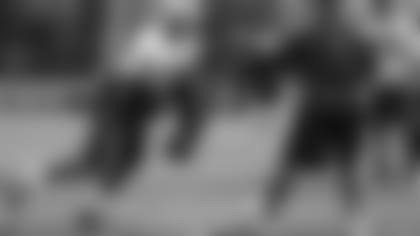 Now he's assured on an extended look with the Panthers as a part of an NFL initiative that awarded one player to each NFC South team through a special practice squad exemption. Obada is set to spend the entire season on Carolina's practice squad. He can't be promoted to the 53-man roster but he also can't be cut from the practice squad – though he said he plans to approach it as if his spot is in jeopardy every day.
"That will bring out the best in me," Obada said. "I won't be able to get activated, but it's a chance to develop. With where I am right now with my development, being around these amazing athletes is what I need. I see it as an investment in my future.
"It's an amazing opportunity. I'm very grateful to be here. We've got some good guys here, good coaches. I'm just excited to learn from them and take my game to the next level."
Obada's path to America has been a winding one, though the majority of it predates his foray into football. He had lived in England since age 10 before giving the NFL a shot.
"Born in Nigeria. Stopped over in the Netherlands. Grew up in London. Now I'm chasing the American dream," Obada said. "I'm doing this for me and my family. If there are other people that I can inspire and motivate that come from my background and upbringing – so they can see that they can do whatever they want if they keep going at it – then that's nice."
View photos from the second week of Carolina's organized team activities.