CHARLOTTE – Selected in the seventh round of the 2017 NFL Draft, Elijah Hood joined the Oakland Raiders having amassed nearly 10,000 rushing yards over his previous five seasons in college and high school.
With the Raiders, he didn't run the ball a single time, didn't gain a single yard. The extent of his playing time as a rookie was eight special teams plays in his one game with Oakland, which waived him earlier this week.
Some folks in Hood's shoes might have showed up Friday with tryout players all around him with a less-than-sunny disposition.
But for Hood, all is good in the world thanks to another dose of Carolina blue in his life.
"I was just in California earlier this week, and now I'm in this Carolina blue, playing for the Panthers," Hood said, looking down and tugging at his Panthers jersey after the first practice of rookie minicamp almost as if to confirm that it was still there. "I couldn't be happier."
Hood is a Charlotte native, having starred a 20-minute drive south of Bank of America Stadium at Charlotte Catholic. Next Hood took his talents a couple of hours northeast to the University of North Carolina - also known for its shade of Carolina blue.
Hood has nothing but positive things to say about his quiet rookie year on the other coast, but he's clearly thrilled to be back home after Carolina claimed him off waivers.
"I think my phone turned off from all the messages and calls I was getting. Just everybody from my school community, college friends – it pretty much felt like the whole state was just saying, 'Congrats. Welcome back home,'" Hood said. "I've known Panthers football all my life, and the Panthers run the ball. I'm happy I get to be a part of this storied and powerful run game, from watching J-Stew and Williams, Biakabutuka.
"All those guys toted the rock for the Carolina blue, and I'm glad I get to join their ranks. I'm real excited."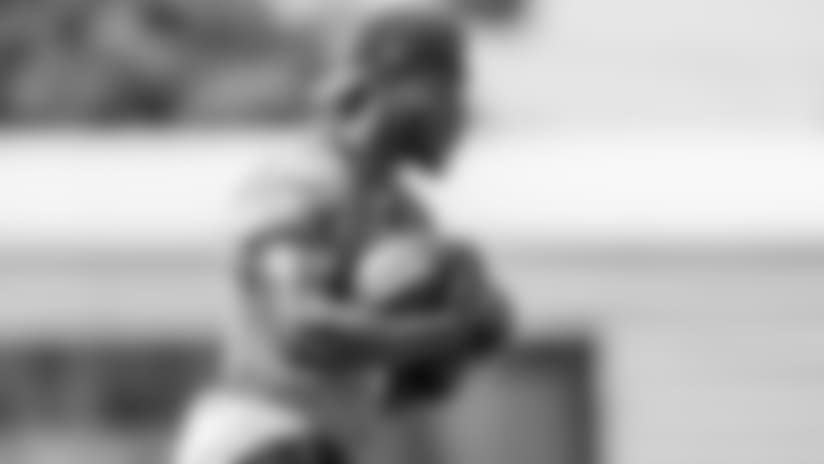 Hood said his favorite Panther growing up (Hood was born in 1996, months after the Panthers completed their first NFL season) was hard-hitting safety Mike Minter. That should tell you a little bit about the type of runner the Panthers picked up.
"They just put me in position and tell me what to do, and as a long as I get to hit somebody and have fun, I'm going to enjoy it," said Hood, who at 230 pounds is the heaviest running back on the roster. "I try to stick my foot in the ground, lower my shoulder, but I also can do other things well. I can catch the ball. I can definitely pass protect.
"I think the Panthers saw that, and they want to incorporate me into the offense. I'll run-block, do whatever. I did that at (UNC)."
Also keep in mind the company he kept in Oakland. Hood said his rookie year was a learning experience, and he meant it when he said it, having shared the practice field with masher Marshawn Lynch.
"I just latched onto Marshawn honestly, just trying to leech off everything I could get from that guy – how he runs, how he sets up his broken tackles, how he makes the game easier for himself," Hood said. "It's amazing to watch that man in action. He taught me a lot about being a pro."
Now Hood, who weighs 15 more pounds than Lynch, is looking forward to sharing the backfield with someone who weighs 15 more pounds than him.
"I'm trying to get used to the thought that Cam is going to be beside me," said Hood, who sounded more like a kid in a candy store than a guy who lost his job just days ago. "Not many guys get to play for their hometown team. Growing up dreaming of being in the NFL, this is the team that was in my mind. Now I'm on the team."
View photos from Friday's rookie minicamp practice sessions.