CHARLOTTE – Offensive line play is one of hardest aspects of football for many of us observers to evaluate. Sure, it's easy to spot the mistakes. But we follow the ball, and that means our eyes are generally on the skill players.
Offensive linemen like it that way. But in this age of social media, fans, former players, coaches and scouts have an outlet to highlight offensive linemen.
Earlier in the year, second-year guard Trai Turner's name was abuzz after a video circulated of him pancaking reigning Defensive Player of the Year J.J. Watt.
More of those videos have followed, and Turner has mixed feelings about them.
"Sometimes, those 'wow' plays don't happen," Turner said. "Sometimes, you just do your job. But there are those plays where it's like, 'You just showed every ability you have on that one play.' It happens, but it's not something I think about."
Turner, of course, relishes any opportunity to make a punishing block that his teammates will watch repeatedly in the meeting room. But linemen, especially the ones in Carolina, are technicians above all.
"My coaches would much rather me sit there, punch and stay right there with good technique," Turner said. "If I do that all the time, that's the best."
In just his second season, Turner, a third-round draft pick from Louisiana State, is playing like one of the best.
"I think a lot has to do with the guy that plays to the left of me," Turner said, referencing All-Pro center Ryan Kalil. "I feel unstoppable next to him, honestly.
"The guy who plays to the right of me (Mike Remmers) is a big part of it, too. He's my focus, if that makes sense. He keeps me level-headed."
It's nice to have some help staying level-headed, especially when you're still only 22 years old.
"ALWAYS BEEN READY PHYSICALLY"
Turner, a New Orleans native, has been playing football since he was six.
"And back then I was playing with nine and 10-year-olds," Turner said.
He could always handle himself in the trenches, even if he was the youngest one on the line of scrimmage. When his recruitment began, college powers lined up to make their pitch. Oklahoma, Auburn, Florida State, Michigan – the list goes on.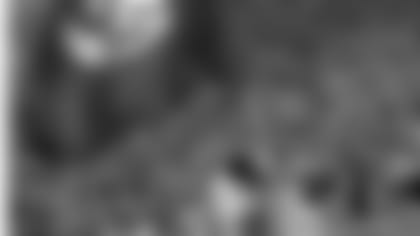 Turner stayed home to play for LSU, and he expected to contribute as a true freshman. Age had never kept him from playing, why should it now? But he was redshirted.
"My redshirt year was terrible," Turner said. "I felt like I could have played – just my competitiveness, my drive, my want-to. But long story short, I didn't play.
"That next year, oh man."
Turner didn't start right away as a redshirt freshman in 2012. But he was plugged into the starting lineup for the seventh game of the season when the ninth-ranked Tigers hosted third-ranked South Carolina.
"I didn't even start the beginning of that season, but I know I could have and maybe should have. When I got the opportunity, I just took off and didn't look back," Turner said.
LSU won the game, 23-21. Afterward, Turner triumphantly waved an LSU flag as he ran across the field. He's kept a picture of that moment on his phone.
"It was a gratifying moment where I knew I could do it," Turner said, looking at the picture. "After that game everything really began to make sense for me."
Turner started every game of his college career following that win. Then, after his redshirt sophomore season, he was off to the NFL.
Turner was 20 years old when the Panthers selected him in the third round of the 2014 NFL Draft. Pretty remarkable, considering how many play college football until they're 24 or even 25.
The NFL is a grown man's league, as they say. But Turner and the people closest to him knew he was physically ready.
"I've always been OK from a physical standpoint. Everybody knew I could play," Turner said. "My family was more worried about me mentally and financially.
"So now what? You are going to Charlotte by yourself? Do we come? It was a transition."
But don't mistake Turner's youth for immaturity. He settled in quickly.
"He's really young, and sometimes it comes out a little bit," Remmers said. "But I think he's very mature for his age. He's just as dedicated as the guys in their thirties. You can tell it means a lot to him."
Said Turner: "I like to have fun. And I show my age with some guys."
When asked how Turner's youth comes out, Remmers laughed and pointed to some exuberant outbursts.
Turner isn't outspoken in the locker room; he carries himself with a very calm demeanor. But he says there is more than meets the eye.
"I smile all day. People tell me I seem like a nice person," Turner said. "But it doesn't take a lot to get me mad. I don't really talk that much. I only speak when I need to."
When Turner straps on the pads and takes the field, it's time to speak.
"It's not a switch, because it isn't that simple," Turner explained. "It's always in me, it just takes certain times for it come on… I'm going to say whatever I have to say to keep me on and get you off your game as much as possible."
"I don't like being hit," he adds, "But I will hit you all day."
Much like his experience at LSU, it took some time for Turner to find the confidence needed to excel. In his first two starts as a rookie, he faced two All-Pros in defensive tackles Gerald McCoy and Ndamukong Suh. He felt good about his performance in those games, not great.
In Week 6, Carolina travelled to Cincinnati and the Panthers rushed for 147 yards and quarterback Cam Newton wasn't sacked. Turner, who spent much of the afternoon blocking another former All-Pro in Geno Atkins, walked away from that game knowing he could thrive at this level.
He's become a fixture at right guard for the 12-0 Panthers, mauling defenders in the run game and getting better each week in pass protection.
"I'm just playing football. I'm enjoying it," Turner said. "I'm 22 and I have that energy. But I also have that confidence. When those two things came together, I realized I was going to be all right."
And the Panthers realized they had something special.