CHARLOTTE – The sheer excitement and energy in Eric Washington's voice makes it sound as though he wished April 16th was tomorrow. In the span of a 30-minute chat, he stood up, sat back down, pointed to some words on his white board, sat in a different chair – you get the picture.
Truth is, Carolina's defensive line coach turned defensive coordinator is going to take full advantage of the time he's got to prepare for the day players return to Bank of America Stadium.
"Organized and aligned" are Washington's big buzzwords (aside from #WeRush, of course), and he's got some work to do on that front, starting with his new office.
Washington is still trying to find an outlet for his coffee machine that's close enough to his desk. He laughs at his own struggle. One step at a time.
The first priority for Washington, aside from ironing out changes to the defensive coaching staff, is reaching out to his players.
"What I'm trying to do is make sure I reaffirm my commitment with this new responsibility," Washington said. "I see it as an expanded opportunity to help, and I want those guys to understand where I'm coming from."
Defensive end Julius Peppers beat Washington to the punch. The future Hall of Famer called his former position coach the day the news became official.
"He was very gracious and very kind," Washington said. "Coming from him that meant a lot. I have so much respect for his character, his talent and his impact on the other guys on this team."
Peppers was one of many meaningful calls Washington took following his promotion. He said he was up till 2:30 in the morning returning all the congratulatory messages.
"The response was, in a word, overwhelming," Washington said. "I've heard from so many people. Every single call was special."
Washington's promotion came on the heels of Steve Wilks' departure to become head coach of the Arizona Cardinals. Weeks ago, the Panthers signed Washington to a contract that would make him defensive coordinator if Wilks were to leave.
"It's humbling," Washington said. "That level of respect is something I will continue to work for and earn. I don't take that for granted. I appreciate where I'm sitting and I know this decision wasn't made in haste. I'm going to give it everything I've got.
"It's amazing how fast things can happen in this profession, hopefully in a positive way. I'm not surprised at all about Steve. He and I are very close friends. We often talked about wanting to have an opportunity to be in leadership positions in this league. I'm extremely happy for him, and I'm looking forward to taking over my new responsibility."
From general manager Marty Hurney to head coach Ron Rivera, just about everyone you ask will tell you Washington is more than ready for this opportunity.
"One thousand percent ready," Washington said. "You have to see the big picture and connect the entire operation. I've spent a lot of time working on that, learning and growing. I feel as prepared as I can possibly be. Now that doesn't mean there aren't going to be things that you learn as you go through it, but we'll meet those challenges."
Washington, who had been Carolina's defensive line coach since 2011, is the team's third defensive coordinator in three years. And like his predecessors, Washington played a big part in building the defense that's in place.
He learned from Sean McDermott and Steve Wilks, and now it's his turn to put his own stamp on it. But the detail-oriented approach won't change.
"Every year you start over," Washington explained. "We get no credit for whatever we accomplished last year. You have to start from the absolute most basic concept and work your way toward being in position to make plays. The reason I believe we've had success is because we respect that process. We're willing to invest the work."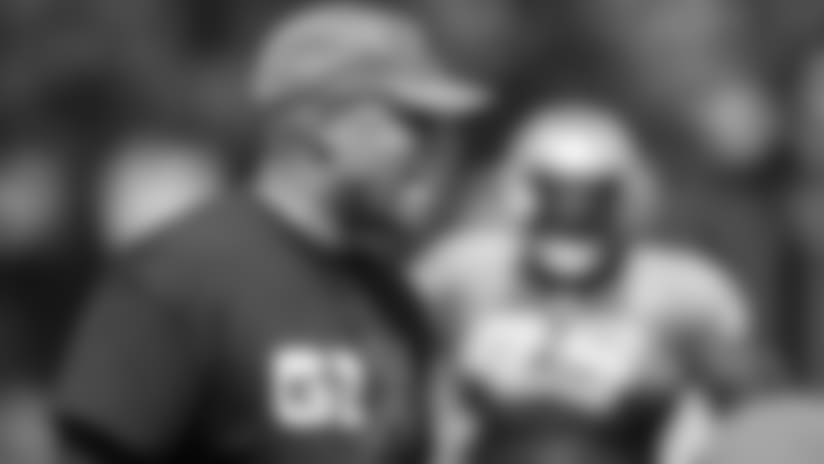 Some additional notes after chatting with Washington:
The defensive coordinator-Luke Kuechly relationship is an important one for the Panthers. "Very important," Washington said. Kuechly has a ton of respect for Washington, and the feeling is mutual. Washington thoroughly enjoyed a recent conversation with the star linebacker, and it's safe to say that partnership is off to a great start.
Wilks became known for blitzing so frequently throughout the season, and while yes, he was an aggressive coordinator, the blitzes were also a product of what offenses were doing. With the Panthers having such a disruptive front, opponents would often utilize extra men in protection and only have two or three targets run routes. In response, the Panthers typically sent extra rushers with the hopes of affecting the quarterback – a staple of their philosophy. Just something to keep in mind as we wait to see how Washington handles the defense as play caller.
Everyone is eager to see if Peppers returns for another year. Here's a little more on that subject from Washington: "Selfishly, I'd like for him to play another 10 years. You want Julius Peppers' influence to be around indefinitely, but I know that can't happen. I respect that he wants to take the time to assess where he is."
View photos of Carolina's new Defensive Coordinator Eric Washington.