Who should the Panthers select with the eighth overall pick in the 2017 draft? We're examining the fan responses on Twitter. Next up is FSU running back Dalvin Cook.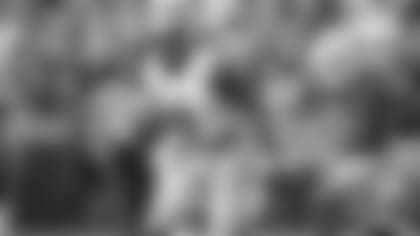 @PanthersMax Dalvin Cook without question. They need an offensive weapon who can change the game in a single play. — Robert Kloss (@RobertKloss) February 13, 2017
Why it makes sense: Simply put, Dalvin Cook can help any offense. As many responders mentioned, he has game-changing explosiveness and agility. Carolina has a proven, bulldozing runner in Jonathan Stewart (who turns 30 in March), but Cook would be an enticing complementary piece in the backfield. The Panthers have always prioritized the running game under head coach Ron Rivera, but it lacked consistency in 2016. Carolina averaged 4.0 yards per rushing attempt last season, which ranked 20th in the NFL. A runner like Cook, who averaged 6.5 yards per carry and amassed 48 touchdowns in three years with the Seminoles, would certainly increase the potential for big plays on the ground.
My two cents: Cook is one of the heavy favorites among fans looking ahead to Carolina's first-round pick, and it's easy to see why. The guy is a big play machine with skills as a runner and pass-catcher, and this offense is in need of more big play threats. If the Panthers decrease quarterback Cam Newton's rushing attempts, which Rivera has been indicating throughout the offseason, it would be wise to add a young playmaker to the running back room who could be a dynamic feature back for years to come.