SPARTANBURG, S.C.  – Linebacker Luke Kuechly believes cheering fans help make practices go that much better.
Last year as a rookie, Kuechly gave spectators at Fan Fest a reason to cheer with an impressive interception. This year, it could be somebody else.
"It's fun for us to practice in front of fans, and we really appreciate the fact that they come out and support us," Kuechly said. "Last year I didn't know how many people would be there, thinking maybe one side would be filled and that would be cool. But the whole bottom bowl was filled. It was awesome."
Fan Fest, which has become a must-see annual event, is set for Saturday at Bank of America Stadium. Technically, it will be the eighth practice held in front of fans since training camp started, and head coach Ron Rivera's plan is to treat it just like the seven practices at Wofford College so far.
Still, he knows the practice will have a different feel, especially for the Panthers' first-year players.
"It's the first experience for our players in front of our fans at our home stadium," Rivera said. "To me, that's the exciting part of it. We'll see how those guys react.
"But really, it's a practice for us. We're not going to do anything special. We're going to stick with what we've been doing and continue to work."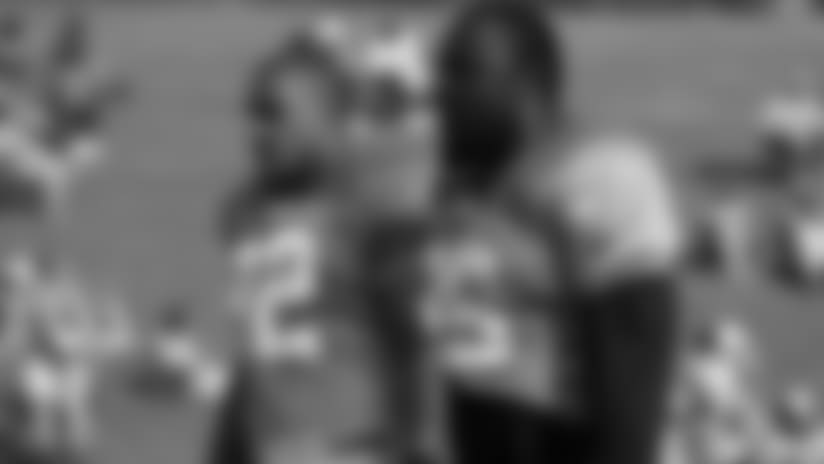 HEAT IS ON: The heat and humidity largely absent during the first week of camp reared its ugly head Friday and threw a couple of Panthers for a loop.
Defensive ends Charles Johnson and Frank Alexander and wide receiver Domenik Hixon didn't complete practice, but Rivera said their departures were precautionary. Johnson and Alexander had their backs tighten up on them, while Hixon had a leg cramp.
"We're just trying to be careful, be smart with these guys," Rivera said. "They're all just stiff, just a little fatigue. Yesterday was a little bit longer because of the rain, and this morning was a little bit steamier than we had anticipated. A couple of guys tightened up, so we were just trying to be careful with them, get them off their feet as soon as we can."
Rivera gave cornerback Drayton Florence a "rest day," and kicker Morgan Lineberry had an excused absence.
MAKING MOVES: The Panthers made a couple of roster moves Friday, claiming safety Ricardo Silva off waivers from the Detroit Lions and signing guard Chris Scott. Carolina also announced it had waived/injured rookie defensive tackle Linden Gaydosh, who had missed most of training camp with a back injury.
Silva started six games and played in four others for the Lions last season, recording 40 tackles and one interception. The Lions signed the 6-2, 225-pounder as an undrafted rookie free agent from Hampton University in 2011, and he played in four games late in the season after spending the first half of the year on the practice squad.
Scott, a fifth-round draft pick by Pittsburgh in 2010, saw action in two games in 2011 before being waived by the Steelers and signed to their practice squad. The 6-4, 319-pounder spent 2012 on practice squads in Green Bay, Tampa Bay and Tennessee before signing with the Buffalo Bills late last season. The Bills waived him July 27.
PLAYING BY THE RULES: An NFL officiating crew will conclude its three-day trip to Panthers camp Saturday at Fan Fest. Friday, officials went over rule changes and points of emphasis for the 2013 season.
Most of the rule changes, which were announced at the NFL Annual Meeting in March, are designed with player safety in mind. The league's annual instructional film shown to players at training camp also stressed how seriously hits on defenseless players will be taken from a disciplinary standpoint.
Players that lead with the crown of the helmet under certain circumstances outside of the tackle box will be penalized, although referee Walt Anderson said that those circumstances – lining up the player to be hit, lowering your head and making forcible contact – likely won't be very commonplace.
The long snapper is now considered a defenseless player while in the motion of snapping, and other changes – like not allowing more than six defensive players on the line of scrimmage to one side of the long snapper on placekicks – should curb dangerous situations.
"Peel-back" blocks – the act of moving toward your own goal line and then coming back to block an opponent from behind or the blind side – are now illegal all over the field. They previously were allowed in the tackle box. Also, players are required to wear knee and thigh pads.
In addition, the "tuck rule" has been in effect eliminated. Also, a play now may still be reviewed by the replay official even if a coach inadvertently throws his challenge flag in a situation where the review is automatic (i.e. the final two minutes of the half).
Points of emphasis include late hits near piles or on the ground; ballcarriers committing facemask penalties on defenders (textbook straight-arms remain legal); and taunting. The act of spinning the ball after a reception – a Steve Smith staple - was used as an example of taunting, though spinning the ball will still be allowed so long as it's not deemed to be directed "in the vicinity of an opponent."