For many fantasy football players, whether they're riding high or feeling low, this week begins a potentially difficult stretch of the season.
For a week at a time, it's time to say bye-bye to your fantasy stars as bye weeks kick into full gear.
The bye weeks began slowly In Week 4 with two teams taking the weekend off, but beginning this week, at least four and as many as six teams are off every week for the next seven weeks.
By the time bye weeks are over, your season might be as well, with only a couple of weeks left in your fantasy league's regular season.
Bye weeks always test the depth of a fantasy roster, shining a light on draft-day decisions that didn't seem to matter to this point while increasing the importance of making wise waiver-wire decisions going forward.
The good news is that every other owner in your league must endure bye weeks right along with you, and there are some things you can do to handle them better than the next guy.
The beginning of bye weeks in earnest is the perfect time for a roster tune-up.
Remember back on draft day when you loved the roster you were putting together, only to realize you had inadvertently created some serious bye-week issues for yourself?
Clearly it's time to sort those out.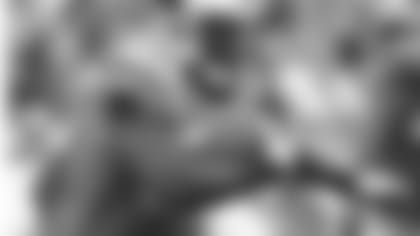 Take a look at your roster and write down what lineup you plan to field for the next several weeks. The worst thing that can happen to a fantasy player is to have an empty spot in your lineup come game day, so now is the time to resolve those.
Weed out any dead weight on your roster – draft picks that haven't worked out and aren't worth holding onto – and smartly target free agents that best fill your bye-week needs.
If you have enough flexibility within your roster, make moves now that will help you in a couple of weeks because it will be harder at the last minute when everyone is scrambling.
A good example? Perhaps someone dropped New York Jets wide receiver Stephen Hill when he cooled off after a hot Week 1 and then was sidelined with a hamstring injury. Hill may or may not return this week, but Jets receiver Santonio Holmes may not return at all with a foot injury that some reports suggest could end his season.
The Jets face the tough Texans this week, but they follow with the Colts, Patriots and Dolphins – teams that allowing a good amount of passing yards. Hill isn't a fantasy stud by any stretch, but if he returns at full speed and Holmes does not, Hill could be a great bye-week fill-in as your other receivers rotate through their bye weeks.
Another wide receiver to consider is Domenik Hixon of the New York Giants, who caught six passes for 114 yards last week against the Eagles. He could be a nice bye-week option as long as Hakeem Nicks remains out with a knee injury that some believe could be season-ending. Plus, the Giants passing game – unlike the Jets – is potent enough that Hixon could contribute as the No. 3 receiver even if Nicks does return.
The pickings are always slimmer at running back, but the likes of Jackie Battle of the Chargers and Brandon Bolden of the Patriots could be out there depending on your league's format. Pounce if they are. In a touchdown-heavy scoring system, Panthers fullback Mike Tolbert or Dolphins fullback Jorvorskie Lane could be worth a look for a week.
Don't be afraid to think outside the box if your league's rules permit it. Are you allowed to use a second tight end as your flex player? If so, don't be afraid to go with the "Heavy Jumbo" look if you have a back-up tight end like Greg Olsen of the Panthers that has really emerged.
Also, look at your opponents' rosters and see if they're struggling with bye weeks. There might be a trade possibility that could benefit you both along those lines – hopefully you more than them.
Bye weeks have slowed down many a fantasy juggernaut of the year, but they don't have to if you respond with some fast and fastidious maneuvers.