Somehow I knew it would turn out this way.
When we recently draw the draft order for the 19th annual National Feetball League draft, I had yet to do much research for our draft day at the end of this month.
One thing I did know from taking a glance at the board: I'd love a top-three pick (duh) but didn't want to pick ninth overall in the 12-team league.
Lo and behold, the draw came down to me and one other guy awaiting our fate, with picks 3 and 9 still unsettled.
My first thought when I drew No. 9? But of course.
My second thought? No use in complaining when you've got a job to do.
The No. 9 pick in fantasy drafts this season could be a tricky one. The top four or five running backs will be off the board as well as the top couple of quarterbacks and wide receiver Calvin Johnson.
Unless you're willing to take a stud tight end super-early, you're left to play catch-up at every position with the owners who've already made picks. In addition, the owners that trail you in the order have a chance to even the score by securing their second player before you.
All, however, is not lost. At the running back position especially, there are a handful of prospects that easily could outscore the running backs picked ahead of you, but all are high risk/high reward players.
Here's a look at those players in alphabetical order – potential steals you should keep a close eye on throughout the preseason given their far-from-stable situations.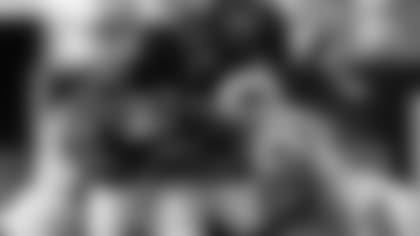 MATT FORTE, Chicago Bears
Forte has perhaps the most stable situation among this stable of running backs, and Panthers fans certainly should be impressed with him after he racked up 205 yards at Carolina's expense in Week 4 last season.
Still, there are as many question marks as exclamation points.
At the heart of it, fantasy football is about scoring touchdowns, and despite gaining more than 1,400 yards from scrimmage each of the past three seasons, Forte has scored just 17 touchdowns. The addition of bruiser Michael Bush to the roster to go with proven backups Marion Barber and Chester Taylor could make the goal line even less attainable.
But like Ray Rice a year ago, Forte could actually be poised to score more touchdowns. An improved passing game helped Rice in that regard last season, and Forte seems to be in a similar boat. If he can shake off the rust after missing offseason workouts due to a contract dispute, he could enjoy a career year.
---
MAURICE JONES-DREW, Jacksonville Jaguars
In a typical season, I view "MJD" as the safest pick that I'm afraid to pull the trigger on. It's hard to believe that the diminutive dynamo will be able to put together another remarkable season, especially in a Jacksonville offense that has struggled in recent years, but he continues to do just that.
This season is even trickier. At this moment, he's holding out for a new contract, with no end in sight. It's a similar situation to that of Tennessee Titans running back Chris Johnson a year ago, when the former 2,000-yard rusher barely reached 1,000 yards and scored just four times after a protracted holdout.
In the latter parts of the first round of a draft, however, it's hard to pass on a back who won the NFL rushing title last year – by 242 yards.
---
DARREN MCFADDEN, Oakland Raiders
When healthy, McFadden is a beast of a back. Through six games last season, he had more than 600 rushing yards and five touchdowns.
Yet he was through after six games.
A foot injury that didn't require surgery never healed enough for him to return to action, and for the third time in his four-year career, McFadden barely cracked the century mark in rushing attempts.
The basis for whether to pick McFadden is simple, but the right answer is hard to come by. Will he finally stay healthy or not?
---
ADRIAN PETERSON, Minnesota Vikings
It's tempting to take a back that's been a sure-fire top-three pick every year he's been in the league outside of his rookie year, when he played like a top-three back.
This year, though, it's also a scary proposition.
Peterson is coming back from a torn ACL and MCL in his left knee, an injury he suffered on Christmas Eve. He insists he'll be on the field for Week 1, but that's just eight months since the injury.
It's hard to imagine the Vikings not bringing Peterson back slowly even if he does suit up for the first game. At the same time, it's hard to imagine them not loosening the reigns quickly if he looks like himself early on.
---
TRENT RICHARDSON, Cleveland Browns
The rookie out of Alabama received nearly unmatched ratings from NFL scouts, and he's coming into a situation where he'll be a workhorse behind an underrated offensive line.
But he's a rookie. In Cleveland.
The Browns were one of just three NFL teams to average less than 14 points a game last season. This season, they've committed to playing a rookie quarterback, although Brandon Weeden is the elder of incumbent starter Colt McCoy by nearly three years.
Add in that Richardson reportedly is set to have "minor" knee surgery, and the fear factor grows.
Richardon's potential is limitless, but the potential for him to bust this season is there as well.
These are the types of decisions that can make or break your fantasy season.