CHARLOTTE – The Panthers' offense typically took a while to get in gear earlier in the season, but lately it's been full speed ahead from the start.
Carolina tied a franchise record with 21 first-quarter points Sunday in San Diego, setting the Panthers up to cruise to a 31-7 victory.
"The good thing we've been doing is getting off to fast starts lately," offensive coordinator Rob Chudzinki said. "That's something we've been stressing. Anytime you do that it helps, especially on the road because you can take the crowd out of it."
The Panthers have scored a touchdown on their opening drive in four consecutive games after producing points on the opening drive just once in the first 10 games. Carolina has 56 first-quarter points in the last four games after totaling 31 in the first 10.
Not coincidentally, the Panthers have a 3-1 record in their last four after starting 2-8.
"The guys have been doing a good job of coming out, being ready for that first drive," Chudzinski said. "You get that first first down and some third-down conversions, and you can get things going, get in a rhythm and off to a good start."
It doesn't hurt that the Panthers have won the coin toss in each of the last two games – their first two coin-toss victories of the season – and have chosen to receive. In both instances, they've claimed a lead they never relinquished.
"It's been nice," Chudzinski said. "I like getting the ball first anytime you can."
Wide receiver Steve Smith helped with Sunday's hot start. His 7-yard catch on the fourth play of the game gave him 1,006 receiving yards for the season, the seventh 1,000-yard campaign of his 12-year career.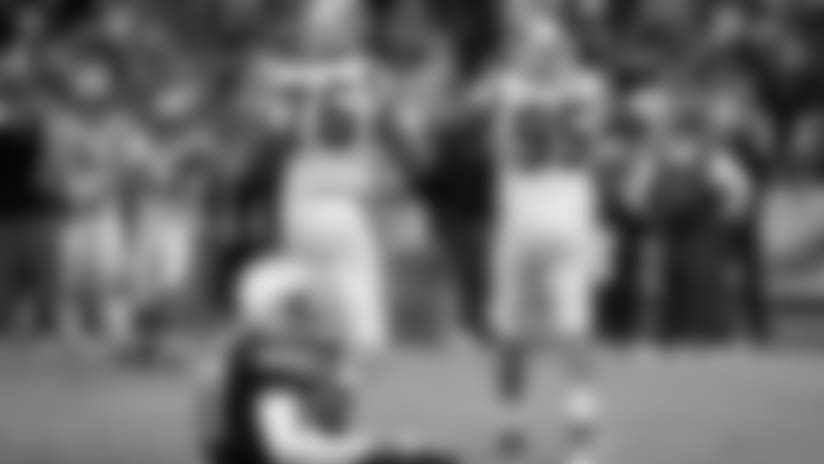 BRUISING BOOKENDS: With two sacks apiece against the Chargers, defensive ends Greg Hardy and Charles Johnson became just the third pair of Panthers to reach double-digit sacks in franchise history.
Defensive coordinator Sean McDermott believes the dynamic duo is in rare air beyond their back yard.
"When you look at the two of them together, I'm not sure that there's a better tandem in the NFL," McDermott said. "Now I don't know all the tandems, but with what they do not only in the pass game but the run game, and with the numbers they've had in the pass game and the way they complement each other, it's just a dynamic group that has done a great job."
Only one other set of teammates – DeMarcus Ware and Anthony Spencer of the Dallas Cowboys – has double-digits sacks, though McDermott said his assessment isn't all about the numbers.
"They're not 260-pound, third-down role players. That's what is unique about these two," he said. "They can play the run as well as they can the pass, and Greg can move inside.
"Really the sky is the limit for those two. If they keep working and working, their future is really bright."
Speaking of bright futures, rookie linebacker Luke Kuechly has tied the franchise record for tackles with two games to go. Coaches' film review credited Kuechly with seven tackles against the Chargers to increase his season total to 174, matching the mark set by James Anderson last season.
RETURN ON INVESTMENT: Rookie Joe Adams continued to make solid contributions since his return to special teams, recording a pair of 16-yard punt returns against the Chargers (though one was neutralized by a penalty).
All five of Adams' returns in the last five games have gone for 10 or more yards. The Panthers totaled just four such returns in the first nine games.